Come rain or shine, you can always rely on your trusty packs of Top Trumps to turn up the fun level a couple of notches!

Summer holidays, long car trips or plane rides, or even on the bus on the way home, Top Trumps has rocked them all in more and more different way with its ever growing range of packs and characters all ready to battle it out.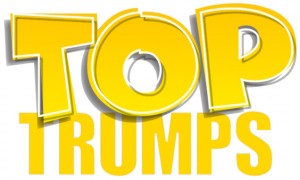 Inspired by some of our very favourite films, TV Show and even cartoons, we've just played the best card in the pack (there is always that one!) and gotten our eager gaming hands on some veeeery cool new packs that we just had to show you guys and gals.

First up we're taking a trip into the magical world of Harry Potter with these amazing movie themed packs! Whether your favourite is Goblet Of Fire, The Prisoner Of Azkaban, The Half Blood Prince or The Order Of The Phoenix, we've got the perfect games for you to really test your wits and knowledge….
So which pack will you pick? Snap up each of these for just £4.99 over at TruffleShuffle.co.uk and dive into the weird and wonderful worlds of your favourite characters today. See you there!
xoxo