Captain Blackbeard! The weekend is in sight and we're ready for docking!
With a strong and able crew at the ready, we're setting sail into the vast emptiness of the oceans. With the great gusts fulling our sales fit to burst, we'll be heading straight into the weekend with a song in our heart and the thought of the great treasure to be found in our minds. We'll take no prisoners on our quest for retro movie greatness, only pausing to gaze of the magnificent celluloid wonder that spills out of the stuffed chests.
Have a happy retro weekend!
SATURDAY 17th January
.
The Secret of My Success (1987) ITV London 2:35pm-4:35pm (2 hours)
A naive country boy travels to New York to make his fortune, only to end up working in a corporation's mail room. He chances on a vacant office and hatches a plan to pass himself off as a top-ranking executive, but leading a double life proves harder than expected. Comedy, starring Michael J Fox, Helen Slater, Richard Jordan and Fred Gwynne.

Fun Fact: Michael J. Fox was, at the time this movie was filmed, a heavy cigarette smoker. Evidence of this is noticeable when his character Brantley (a non-smoker) puts his feet up on the desk and reveals dozens of burn marks from extinguishing cigarettes with his shoe.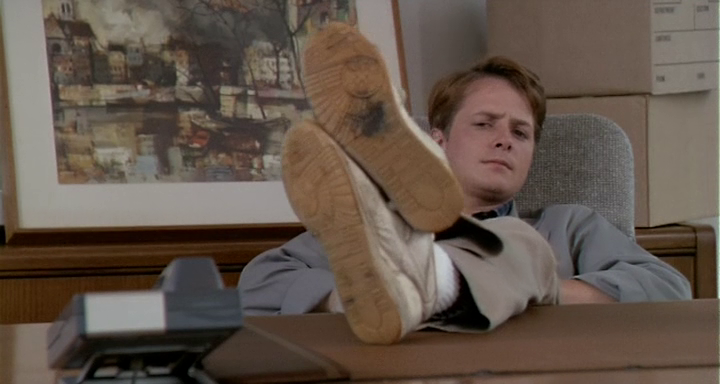 Top Gun (1986) Film4 6:50pm-9:00pm (2 hours 10 minutes)
An arrogant pilot's maverick flying skills earn him a place in an elite US Navy school, where he comes into conflict with a fellow student and falls for his civilian instructor. A tragedy in the air threatens to end his military career – until an international incident offers him a chance to redeem himself. Aerial action adventure, starring Tom Cruise, Kelly McGillis, Val Kilmer, Anthony Edwards and Tom Skerritt.
Rocky III (1982) 5USA 7:00pm-9:00pm (2 hours)
World heavyweight boxing champion Rocky Balboa settles down into a life of luxury – but a cloud appears on the horizon in the shape of ambitious contender Clubber Lang, whose brutal fighting style represents a serious threat to his title. Drama, starring Sylvester Stallone, Mr T, Burgess Meredith, Talia Shire, Burt Young, Carl Weathers and Hulk Hogan.
Bill & Ted's Bogus Journey (1991) ITV4 8:10pm-10:00pm (1 hour 50 minutes)
The would-be heavy metal superstars face the Grim Reaper as they try to reclaim their souls from Hell, return to the land of the living and stop their robot doppelgangers from changing history. Along the way, they must also master their instruments, so they can triumph at the Battle of the Bands. Comedy sequel, starring Keanu Reeves, Alex Winter, William Sadler, Joss Ackland and George Carlin.
Forrest Gump (1994) Viva 9:00pm-12:00am (3 hours )
A slow-witted man has a series of bizarre adventures, including becoming an American football star, Vietnam veteran, table tennis champion and millionaire businessman – but the love of his life from childhood continues to elude him. Robert Zemeckis's Oscar-winning comedy drama, starring Tom Hanks, Sally Field, Robin Wright and Gary Sinise.
Apocalypse Now (1979) ITV4 11:00pm-1:55am (2 hours 55 minutes)
An army captain is sent on a top-secret mission into Cambodia, where his goal is to find and assassinate a renegade colonel who has gone insane and is worshipped by his followers as a god. However, as his patrol boat journeys further upriver, the conflict and disarray surrounding him becomes increasingly disturbing and nightmarish. Francis Ford Coppola's Vietnam War drama, starring Martin Sheen, Marlon Brando and Robert Duvall.
SUNDAY 18th January
.
Patch Adams (1998) 5* 1:00pm-3:25pm (2 hours 25 minutes)
A talented student doctor turns the medical community upside down with his offbeat views about the healing power of laughter. His methods provoke outrage and intense debate among his professors – but his extrovert nature brightens the lives of all kinds of patients. Comedy drama, starring Robin Williams, Monica Potter, Daniel London, Bob Gunton and Philip Seymour Hoffman.
Teen Wolf (1985) Syfy 1:00pm-3:00pm (2 hours)
A teenage misfit is initially dismayed to learn he is a werewolf as a result of a hereditary curse. He finds there are advantages as he becomes a local celebrity, while his enhanced agility makes him the star player of his school's basketball team – but fame quickly goes to his head. Comedy, starring Michael J Fox, James Hampton and Susan Ursitti.
Homeward Bound: The Incredible Journey (1993) ITV2 3:20pm-5:05pm (1 hour 45 minutes)
Two dogs and a cat are left in the temporary care of a friend when their owners are forced to move away. Thinking they have been abandoned, the trio hit the road in a bid to find their way home. Adventure, featuring the voices of Michael J Fox, Sally Field and Don Ameche. Kim Greist, Robert Hays and Benj Thall take the human roles.
Live and Let Die (1973) ITV London 4:00pm-6:20pm (2 hours 20 minutes)
James Bond's investigation into the murder of three British agents leads him to a connection between the dictator of a Caribbean island and a notorious Harlem drug kingpin – along with a plot to flood America with limitless supplies of free heroin. Spy adventure, with Roger Moore in his first appearance as 007, alongside Yaphet Kotto and Jane Seymour.
Fun Fact: Roger Moore suffered an injury during the boat chase. The engine cut out and the momentum carried him into a boathouse. He cracked some of his front teeth and twisted his knee. He had to walk on a cane for days afterward, but he was still able to complete the scene because all he had to do was sit in the boat.
Jurassic Park III (2001) ITV2 7:15pm-9:00pm (1 hour 45 minutes)
Palaeontologist Dr Alan Grant is lured to a dinosaur-infested island by a divorced couple who offer to fund his research, unaware their real motive is to find their missing son – and that the creatures on the island are far more intelligent than anyone suspected. Action adventure sequel, starring Sam Neill, William H Macy, Tea Leoni and Alessandro Nivola.
Transformers (2007) E4 8:00pm-10:50pm (2 hours 50 minutes)
Teenager Sam Witwicky is treated to his first car by his dad, but it turns out to be an alien scout with a life of its own. Before long, the vehicle embroils Sam in a long-running intergalactic war between two factions of giant shape-changing robots, which have come to Earth to find a mystical cube that grants infinite power to its possessor. Michael Bay's sci-fi action adventure, inspired by the toy franchise, with Shia LaBeouf, Megan Fox, Josh Duhamel, Jon Voight and John Turturro.
Whatever you're up to this weekend, make sure you always remember to shut the window and get to the cinema on time so you don't have to sit at the front…
xoxo