Sweet home Alabama! Another weekend is here which means…… time for our Retro Movie Rundown!!
Drilling, welding, stitching and gluing our way to soap box building glory, we find ourselves dragging our Frankenstein's monster like creation to the top of our nearest and biggest hill. Pausing for a moment to take one final look at our creation in all it's glory, we'll then launch our way down the course, hitting ramps and nailing corners as we go. Will we beat the pack or will we just beat our creation into more parts then we began with? Only time will tell. Chocks away!
Have a happy retro weekend!
SATURDAY 15th July
.
James and the Giant Peach (1996) 5STAR 10:40am-12:15pm
An unhappy orphan living with his cruel aunts discovers a gigantic peach growing in the garden. Venturing inside, he meets six friendly insects and together they embark on a magical journey. Animated and live-action fantasy, based on Roald Dahl's novel, starring Paul Terry, Joanna Lumley and Miriam Margolyes and featuring the voices of Susan Sarandon and Richard Dreyfuss.
Harry Potter and the Prisoner of Azkaban (2004) ITV 10:50am-1:25pm (2 hours 35 minutes)
The teenage wizard is alarmed to learn a dangerous fugitive sorcerer is searching for him. Meanwhile, a new teacher at Hogwarts helps the bespectacled youngster to protect himself from the school's soul-sucking security guards. The third in the fantasy adventure series, starring Daniel Radcliffe, Emma Watson, Rupert Grint, Gary Oldman, David Thewlis, Michael Gambon, Robbie Coltrane and Alan Rickman.
Housesitter (1992) 5STAR 1:45pm-3:40pm
An architect has a fling with a kooky waitress, who takes it upon herself to move into his house and pass herself off as his wife. When the woman he is actually in love with says she thinks the sham marriage is good for him, he decides to play along with the deception. Romantic comedy, starring Steve Martin, Goldie Hawn, Dana Delany, Donald Moffat and Julie Harris.
A League of Their Own (1992) Film4 4:50pm-7:20pm (2 hours 30 minutes)
An alcoholic former professional player reluctantly agrees to train an all-female baseball team during the Second World War. With star player Dottie Hinson and her sister Kit on board, they look set to dominate the league – until sibling rivalry rears its head. Comedy drama, starring Geena Davis, Lori Petty, Tom Hanks and Madonna.
101 Dalmatians (1996) E4 6:00pm-8:00pm (2 hours)
Wicked fashion designer Cruella De Vil steals a huge litter of newborn Dalmatian puppies to turn into a magnificent coat – but the lucky pups have many four-legged friends who are determined the evil woman and her cronies will get their just deserts. Disney's live-action remake of the animated comedy adventure, starring Glenn Close, Jeff Daniels, Joely Richardson, Hugh Laurie and Mark Williams.
Fun Fact: 230 Dalmatian puppies and 20 adult Dalmatians were used during filming.
Men in Black II (2002) Film4 7:20pm-9:00pm (1 hour 40 minutes)
Agent J investigates the unauthorised landing of a spacecraft and discovers a malevolent alien disguised as a lingerie model is on the verge of destroying humanity. His only hope of stopping her diabolical plot is to restore the memory of his retired partner K – but his former mentor takes more than a little convincing. Sci-fi comedy sequel, directed by Barry Sonnenfeld, starring Will Smith, Tommy Lee Jones, Rosario Dawson, Lara Flynn Boyle, Johnny Knoxville, Rip Torn and Tony Shalhoub.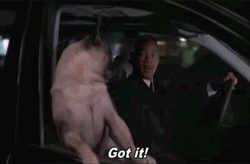 Heat (1995) Dave 9:00pm-12:35am (3 hours 35 minutes)
An armoured car hold-up sets a veteran police detective on the trail of a highly intelligent career criminal, whom he is obsessed with capturing. Meanwhile, the robber is planning an elaborate bank heist as his final job before retiring, and a complex game of cat and mouse develops between the two. Michael Mann's crime thriller, starring Al Pacino, Robert De Niro, Val Kilmer, Jon Voight, Tom Sizemore and Natalie Portman.
Fun Fact: For the scene in the restaurant between Hanna and McCauley, Robert De Niro felt that the scene should not be rehearsed so that the unfamiliarity between the two characters would seem more genuine. Michael Mann agreed, and shot the scene with no practice rehearsals.
The Game (1997) Sony Movie Channel 9:00pm-11:45pm
A selfish investment banker is given an unusual birthday present by his free-spirited younger brother. He is enrolled in a mysterious game, the nature of which is never revealed – and as he tries to fathom the rules, his life rapidly begins to unravel in explosive fashion. David Fincher's thriller, starring Michael Douglas, Sean Penn, Deborah Kara Unger and Peter Donat.
There's Something About Mary (1998) 5STAR 9:00pm-11:40pm
A lovelorn man hires a sleazy private eye to track down his high-school sweetheart in the hope of rekindling their brief relationship. By unfortunate coincidence, the detective also falls for her, and then it emerges there are even more men out there competing for her affections. Comedy from the Farrelly brothers, starring Cameron Diaz, Ben Stiller, Matt Dillon and Lee Evans.
Die Hard with a Vengeance (1995) BBC1 10:10pm-12:10am (2 hours)
New York cop John McClane returns to duty following an explosion at a department store in the city. The perpetrator contacts the police and tells them that unless McClane and an unfortunate bystander who was in the wrong place at the wrong time carry out a series of instructions to the letter, more bombs will be detonated. Action thriller sequel, starring Bruce Willis, Samuel L Jackson and Jeremy Irons.
SUNDAY 16th July
.
The Muppets Take Manhattan (1984) Sony Movie Channel 9:00am-11:10am
Kermit, Miss Piggy, Fozzie Bear and company try to take Broadway by storm with their college show, setting the stage for a host of misadventures as they yearn for stardom in the Big Apple and set out to raise the money to finance their production. Comedy, performed by Jim Henson and Frank Oz, with appearances by Liza Minnelli, Art Carney, Dabney Coleman, Gregory Hines, Joan Rivers, Brooke Shields, Linda Lavin and Elliott Gould.
Babe (1995) ITV2 12:50pm-2:40pm
A kindly farmer wins a cute piglet, which some greedy humans and jealous animals hope will end up as the Christmas roast. Undaunted, the young pig proves himself useful on the farm and enlists the aid of the resident dog in learning how to herd sheep. Family comedy, starring James Cromwell and Magda Szubanski, with Christine Cavanaugh, Miriam Margolyes and Hugo Weaving among those providing the voices of the animal characters.
For Your Eyes Only (1981) ITV 3:10pm-5:40pm (2 hours 30 minutes)
James Bond goes in search of a British weapons system aboard a sunken vessel before it falls into the hands of enemies who will use it to deactivate all Western submarines. Unfortunately, his mission is hindered by a crossbow-toting woman out to avenge her father's murder. Spy thriller, starring Roger Moore, Topol, Julian Glover, Carole Bouquet, Jill Bennett and Lynn-Holly Johnson.
Grease (1978) Film4 6:35pm-8:50pm (2 hours 15 minutes)
Rebellious American teenager Danny falls for innocent Australian girl Sandy during the summer holidays, but when he later finds out she is a new student at his school, he risks losing her love by trying to act cool in front of his friends. Romantic musical set in the 1950s, starring John Travolta, Olivia Newton-John, Stockard Channing, Jeff Conaway, Didi Conn and Sid Caesar.
Police Academy 2: Their First Assignment (1985) ITV4 8:00pm-9:50pm
America's most inept cops graduate and are let loose on the streets – under the command of an unscrupulous lieutenant whose promotion depends on their failure. Fortunately for him, their unique brand of policing actually leads to an increase in the crime rate. Comedy sequel, starring Steve Guttenberg, Bubba Smith, David Graf and Michael Winslow.
Speed (1994) E4 9:00pm-11:20pm (2 hours 20 minutes)
An LAPD cop discovers a psychopathic criminal has planted a bomb on a crowded bus, primed to go off if the vehicle drops below 50mph. He boards the vehicle and helps the hapless passenger who has been forced to take the wheel to keep a constant speed to avoid a disaster. Action thriller, starring Keanu Reeves, Sandra Bullock, Dennis Hopper and Jeff Daniels.
Whatever you're up to this weekend, keep it jazzy and keep on dancing.