Working for the biggest online retailer of cool t-shirts, we see our fair share of amazing tees hit the shelves…! But which ones have stuck out? Do we have a favourite..and why do we love them so much? I've grabbed 10 minutes with a few of my favourite TruffleShufflers and asked them about their fashion tee-ndencies while they've worked here, and what generally makes them tick when it comes to the world of retro! Enjoy!
First up is James, the designer for TruffleShuffle (he's the one responsible for all the cool t-shirts – so we should probably take 5 minutes to applaud his geniusness!)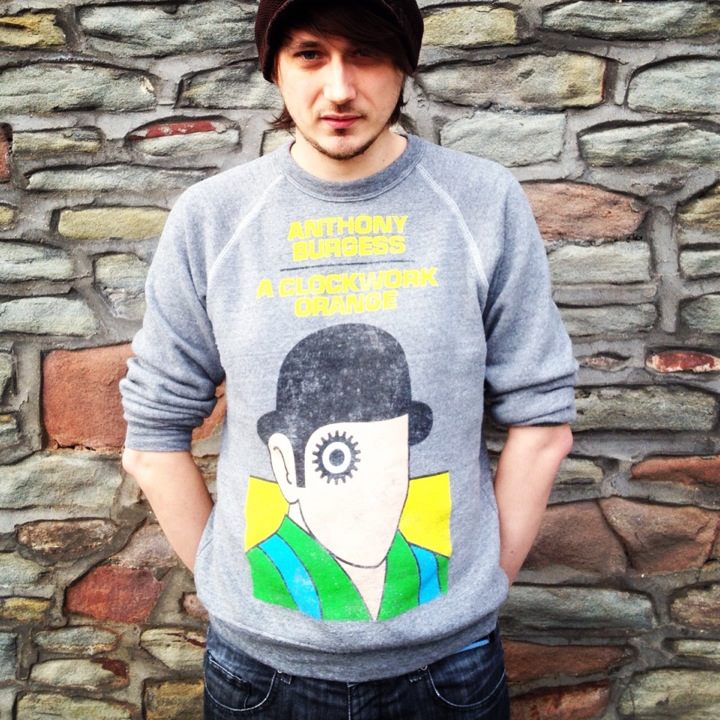 Favourite t-shirt ever produced? – Old Skool Gamer T-Shirt.  I've been a massive computer game fan since I was about 10, so to get the opportunity to design a T-Shirt featuring all my favourite consoles and controllers was a bit of a treat.
Favourite range you've ever designed? – Sesame Street is always really fun to work with, they've got such a versatile range of characters and we're always allowed to do quite weird and wonderful things with them.  Whether we've got Elmo and the gang crossing Abbey Road, joining a rock group or even recreating the Trainspotting movie poster they always make it look cool!
What was your first t-shirt ever purchased from TruffleShuffle? – My first T-Shirt from TruffleShuffle was one featuring Pac-Man and one of the Ghosts taking over Tokyo, it managed to look retro and modern at the same time and is still one of the favourite items in my wardrobe!  It came from Chunk clothing who are always experts in doing weird mash ups with their characters.
Secondly we have the ever so beautiful Lucy, the buyer here at TruffleShuffle. She's also responsible for all the coolness on the site – so be nice to her. If you want to bribe her into stocking something, chocolate and jewellery will definitely earn you some brownie points!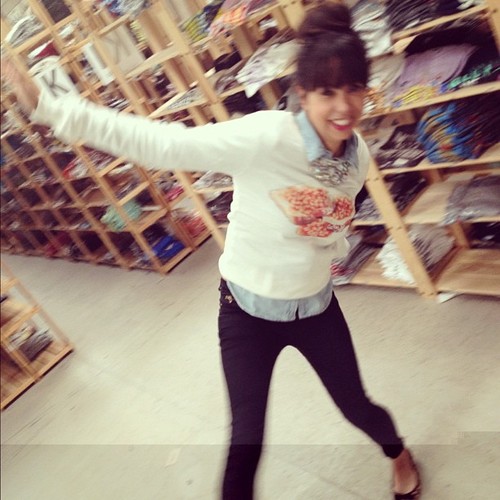 Favourite item you've ever sourced for TruffleShuffle? – The brand, Mr Gugu & Miss Go. It's a really new, crazy, quirky and punchy range which makes a real statement. We like to keep things fresh and exciting on TruffleShuffle.com and this brand offers funky, psychedelic and kitsch retro influences, teamed with modern technology, creating cool, vibrant all over prints for an edgy, hipster look! My fave has to be the crazy cat!
Who's your favourite celebrity ever spotted in TruffleShuffle clobber? – I think Cara Delevingne has a really fab look and always looks great in a retro tee!
Sum up TruffleShuffle in 5 words? – Nostalgic, Fun, Individual, Quirky, Awesome!
Next up is Amy, she's responsible for overseeing the whole operation when it comes to your goods hitting the shelves…! She' was the first ever member of staff here at TruffleShuffle (to be honest, I think she's just waiting for the day we stock high heels…she doesn't love us at all. It's all about the shoes!)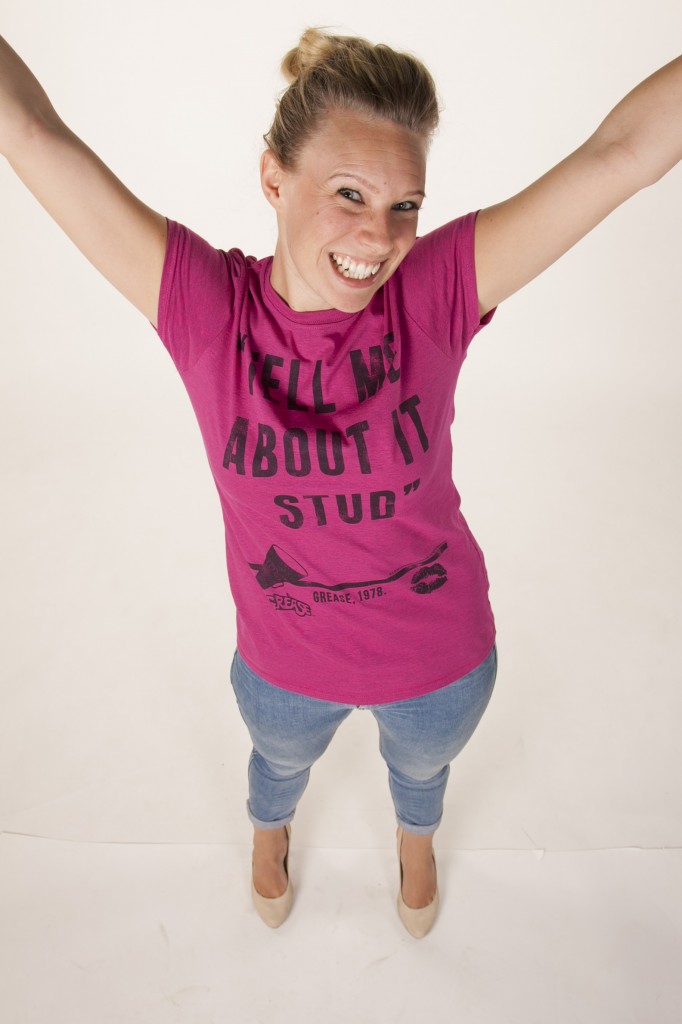 So the Goonies kick-started it all for TruffleShuffle, but what's your fave retro movie? – Mrs Doubtfire (1993!)
What item from TruffleShuffle are you lusting over at the moment? –  http://www.truffleshuffle.co.uk/store/ladies-roald-dahl-matilda-tshirt-p-11883.html coming soon – can't wait!
Who's your favourite Disney princess? – Cinderella (Ultimate Disney glam!)

Next up is Iain, he's in charge of marketing! He is responsible for all the cool stuff happening on our social networking sites.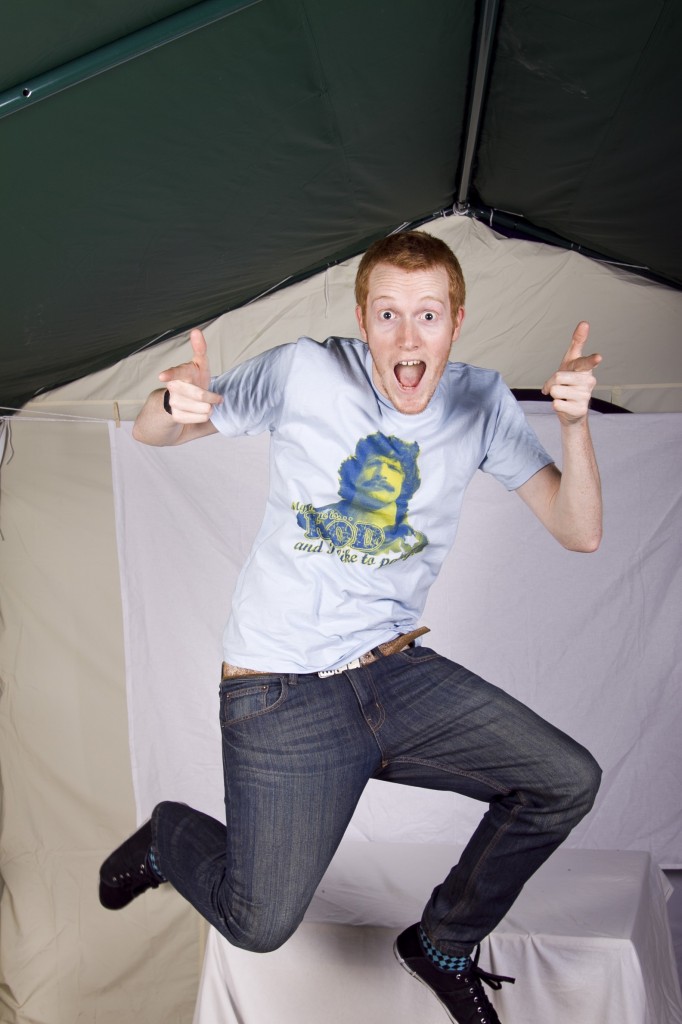 If you could be an extra in any 80's film, which would you choose? It would have to be Star Wars in Return of The Jedi, getting to dress up as a Stormtrooper would be so much fun. I'd make sure I didn't pump my head though. D'oh!
Out of all the TruffleShuffle tees you have, what one gets the most comments? – Most comments? Hmmm probably my Tommy Cooper T-Shirt, I think he's such a beloved comedian and not too often seen on screen these days sadly. Seeing it instantly reminds people of how amazing he was perhaps.
Favourite band from the 80's?  – WOW that's a tricky one, torn between Metallica and Queen…I'm going to say Queen. I've always loved their sound and really believe they helped shape music even up to today. Legends.
Lee, our photographer wears aloooot of cool t-shirts so he's next on our quiz hit list.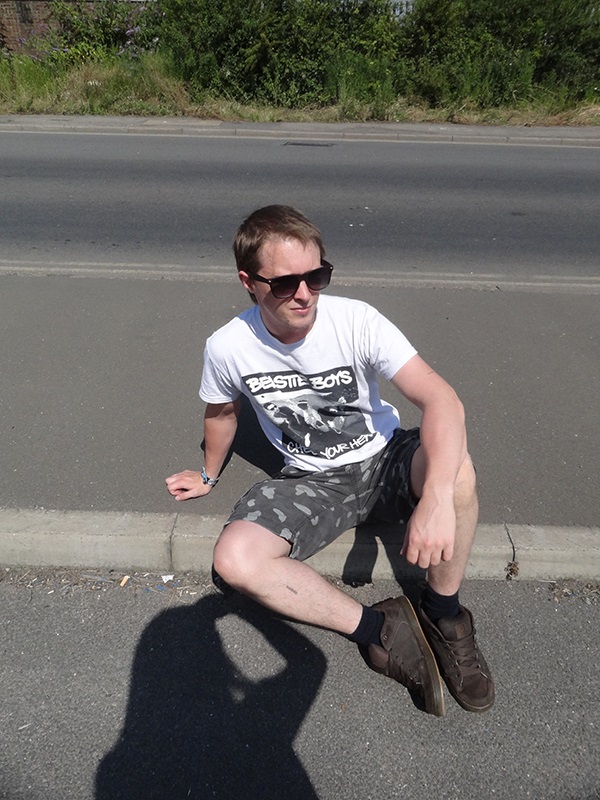 Biggest fashion faux paux of your childhood? Basin hair cut. My mum was so good at it though she didn't need the basin to cut around
Last thing you bought from TruffleShuffle? Beastie Boys Robot T-shirt
Who would win in a fight…Superman or Batman, more importantly…why? Batman because as he is a member of the Justice League he knows all Superman's strengths and weaknesses and habits, Plus Batman has possession of a kryptonite ring which would be able to leave Superman helpless.
There you have it…! All our favourite stuff summed up! What's your favourite TruffleShuffle t-shirt, past or present?
Save