If just hearing the words Fun House brings back that rosy glow of childhood nostalgia then boy do we have a treat for you!
Hosted by the legend that is Pat Sharp along with his faithful sidekicks, the unforgettable blonde cheerleader twins Melanie and Martina, it featured frankly amazing games that any kid would give his right arm to play, not forgetting of course the excellent final go-cart battle….
A game! AND a race! A real wacky place!
The show had a very credible ten year run from 1989 to 1999 but just when you thought that it was doomed to only live on in your childhood memories forever, we're bringing it back in T-Shirt form!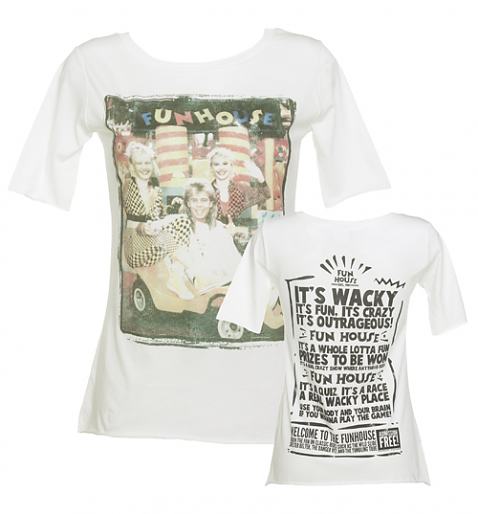 Yes that's right folks – we've teamed up with Pat himself to pay homage to what was a kids TV institution for any respectable 80's/90's kids!
The front of our new and exclusive Tee features a colour photo print of Pat (complete of course with THAT mullet) and the Twins all set against the famous Fun House set.  And as if that wasn't enough retro goodness for one tee, the back features a print of the famous show theme tune.
Available for guys and gals here – get yours before they go and just wait for the nods of appreciation from fellow fans!
All together now…
Wacky!
Fun!
Crazy!
It's outrageous!
Fun house, a whole lot of fun,
prizes to be won.
It's the real crazy show where anything goes.
Fun house, it's a quiz,
it's a race, a real wacky place,
Use your body and your brain
if you wanna play the game!
Were you a faithful Fun House fan? Let us know your memories of the iconic show in the comments box……