How do you fancy winning some money to spend at TruffleShuffle? It couldn't be easier – all you have to do is review your recent purchases – by clicking on the product page and telling us why you love your new item so much. At the end of every month, we then choose our favourite review and credit the winners account with £50.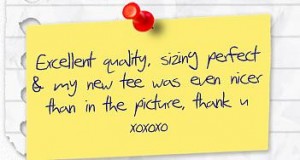 Last months winner, Natalie Sorrell provided this awesome review of her recently purchased Blondie t-shirt:
'This was my first ever purchase from Truffle Shuffle…and what a fabulous purchase it was!! I had heard of Truffle Shuffle but as all the celebs were wearing bits from here (as I had seen in magazines) I thought it would be really expesive, but was plesently surprised!This Debbie Harry t-shirt was a birthday present for my sister, she absolutlely loves it. She hadn't seen this t-shirt before so was pleased as not everyone had it. It fits her lovely and she is always wearing it. When it arrived and had a look and love the quality, it feels so nice and expensive was happy to pay £25 for it also was pleased the delivery wasn't expensive. The packet love hearts were a bonus too we were both winners! Now just got to try and convince her she isn't actually Debbie Harry!! Thanks Truffle Shuffle have already decided to order most my Xmas presents from here. Keep up the good work!!'
Not only is the review section of the website a great way for our customers to share one anothers feedback,  it also gives us a chance to view your comments regarding the ranges we stock, your favourite styles and your overall TruffleShuffle experience.
Speaking of rave reviews…we would like to thank all of you who voted for TruffleShuffle in the recent 'Click to Buy' awards. We are absolutely delighted to be awarded the 'Best Specialist' award. We are especially proud as this was a result of the amount of votes placed by our customers.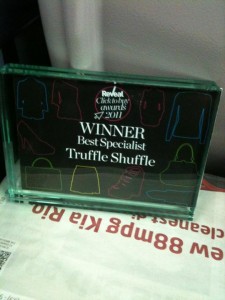 Septembers winner will be chosen at 3pm on Monday so get reviewing for a chance to win a £50 Gift Voucher! xoxo