That's right peeps of the internets! It's Roald Dahl day today and we're busy celebrating one of the nations favourite authers in style with some of our fantastic retro Roald Dahl T-Shirts on and diving headfirst into the land of the man himself.
To help celebrate this big day, we've decided to pick out some cool Roald Dahl facts that's hopefully you won't already know, just to you can learn a little something new. Enjoy!
1) His first job wasselling kerosene in Midsomer Norton, he later went on to work for Shell while living in Kenya.
2) He was a Hurricane fighter pilot during World War II where he became a flying ace and intelligence officer, rising to the rank of wing commander.
3) He survived a plane crash! Struggling to find the airstrip, running low on fuel and with night approaching, he was forced to attempt a landing in the desert. The undercarriage hit a boulder and the aircraft crashed, fracturing his skull, smashing his nose and temporarily blinding him. He managed to drag himself away from the blazing wreckage and passed out. Later, he wrote about the crash in his first published work.
4) If not an Author, he'd liked to have been a doctor.
5) Born in Wales by Norwegian parents Harold and Sofie,  he was named after one of the most celebrated explorers in Norwegian history, Roald Amundsen.
6) He always wrote in pencil on yellow paper. Yellow was also his favourite colour.
7) Roald Dahl could speak Norwegian, English, and Swahili. Norwegian was the first language he learned to speak.
8 ) Roald Dahl's first book was published when he was 27 in 1943. It was "The Gremlins".
9) He was once punished by the headmaster at school after putting a dead mouse in a jar of gobstoppers at the local sweet shop. Naughty!
10) In the 1986, he was offered the Order of the British Empire (OBE), but turned it down, supposedly because he wanted a knighthood so that his wife would be Lady Dahl.
That's all folk! We hope you had some fun and learned a few extra pub quiz facts. How will you be celebrating this amazing day in honour of an amazing man?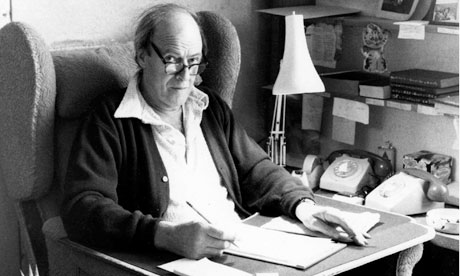 Don't forget to check out our fab an expanding range of exclusive and official Roald Dahl merchandise including T-Shirts, Vests and more covering all of your favourite works….