Spanner in the works! Is it really the weekend so soon??
So like a humble, experienced and ever hard-working mechanic, we'll be searching through the tools of the trade before getting to work on fixing all of the weekend's oily woes. Making sure everything is bolted tight and greased up, we'll be sending our trusty retro moviemobile on its way through the weekend to delivery it's boot full of 80s and 90s movie awesomeness across the internet.
Have a happy retro weekend!
SATURDAY 14th February
.
Snow White and the Seven Dwarfs (1937) Sky Movies Disney HD 11:40am-1:10pm (1 hour 30 minutes)
Disney animated version of the Brothers Grimm story about a princess driven from her home into a sinister forest by her evil stepmother. She is taken in by a group of kindly dwarf miners, but her happiness is threatened when her stepmother returns bearing a poisoned apple. The first ever feature length animated movie, with the voices of Adriana Caselotti and Lucille La Verne.
Butch Cassidy and the Sundance Kid (1969) Film4 3:00pm-5:10pm (2 hours 10 minutes)
Two notorious outlaws' routine of bank and train robberies is cut short when a seemingly unstoppable posse is formed to catch them. The pair plan to flee America and start a new life in Bolivia, with the Sundance Kid's schoolmistress lover in tow – but staying ahead of the law is not so easy. Western, starring Paul Newman, Robert Redford and Katharine Ross.
Speed (1994) Sky Movies Crime & Thriller HD 3:20pm-5:30pm (2 hours 10 minutes)
An LAPD cop discovers a psychopathic criminal has planted a bomb on a crowded bus, primed to go off if the vehicle drops below 50mph. He boards the vehicle and helps the hapless passenger who has been forced to take the wheel to keep a constant speed to avoid a disaster. Action thriller, starring Keanu Reeves, Sandra Bullock, Dennis Hopper and Jeff Daniels.
Fun Fact: Sandra Bullock actually learned to drive a bus for the film, passing her test on her first attempt.
The Fox and the Hound (1981) Sky Movies Disney HD 3:30pm-5:00pm (1 hour 30 minutes)
An orphaned fox cub is taken in by a kindly widow, and becomes firm friends with a puppy belonging to a hunter. However, as they grow to adulthood, the dog is trained to prey on foxes, and the two animals realise their friendship may not survive as they are expected to be natural enemies. Animated adventure, with the voices of Mickey Rooney and Kurt Russell.
Superman II (1980) 5USA 4:05pm-6:40pm (2 hours 35 minutes)
The Man of Steel meets his match in the form of three fugitive villains from his home planet of Krypton. Flying down to Earth, the super-powered trio unleash a reign of terror in a bid to take over the world – but Superman is not there to stop them, having surrendered his powers to lead a normal life with his beloved Lois Lane. Comic-strip adventure sequel, with Christopher Reeve, Gene Hackman, Terence Stamp and Margot Kidder.
The Goonies (1985) Sky Movies Comedy HD 6:00pm-8:00pm (2 hours)
Seven youngsters discover an old map and set out on the adventure of a lifetime to save their homes from a land developer by finding a legendary pirate's hidden treasure. However, they first have to navigate a series of booby-trapped underground caverns and outwit a family of crooks also after the loot. Children's adventure, starring Sean Astin, Corey Feldman, Josh Brolin and Martha Plimpton.
Back to the Future (1985) ITV2 7:00pm-9:20pm (2 hours 20 minutes)
Teenager Marty McFly travels back to the 1950s in a time machine built by his eccentric inventor friend. The return journey proves tricky enough, but he also accidentally alters the sequence of events that led to his parents falling in love – and has to persuade his future dad to win his mother's heart, or he will never be born. Sci-fi comedy adventure, starring Michael J Fox, Christopher Lloyd, Lea Thompson and Crispin Glover.
Point Break (1991) 5USA 9:00pm-11:35pm (2 hours 35 minutes)
An FBI agent infiltrates a Californian surfing gang suspected of carrying out a series of armed robberies wearing masks modelled on former US presidents. However, his loyalties are tested to the limits when he is befriended by the gang's leader. Kathryn Bigelow's thriller, starring Keanu Reeves, Patrick Swayze, Gary Busey and Lori Petty.
Fun Fact: The beach spot where the football game is played at the beginning of the film is the same spot used for the soccer game in The Karate Kid (1984).
Top Gun (1986) Viva 9:20pm-11:40pm (2 hours 20 minutes)
An arrogant pilot's maverick flying skills earn him a place in an elite US Navy school, where he comes into conflict with a fellow student and falls for his civilian instructor. A tragedy in the air threatens to end his military career – until an international incident offers him a chance to redeem himself. Aerial action adventure, starring Tom Cruise, Kelly McGillis, Val Kilmer, Anthony Edwards and Tom Skerritt.
SUNDAY 15th February
.
Close Encounters of the Third Kind: The Director's Cut (1977) 5* 2:25pm-5:15pm (2 hours 50 minutes)
An electrical repairman sees a fleet of UFOs flying overhead and afterwards becomes obsessed with images of a mountain, driving his wife to despair. Meanwhile, a woman develops a similar fixation after her son vanishes, and a team of scientists investigates a series of strange events around the world – until they are all drawn to Devil's Tower in Wyoming, where the aliens are about to make contact. Alternate cut of Steven Spielberg's sci-fi drama, with Richard Dreyfuss, Francois Truffaut and Teri Garr.
For Your Eyes Only (1981) ITV London 4:15pm-6:35pm (2 hours 20 minutes)
James Bond goes in search of a British weapons system aboard a sunken vessel before it falls into the hands of enemies who will use it to deactivate all Western submarines. Unfortunately, his mission is hindered by a crossbow-toting woman out to avenge her father's murder. Spy thriller, starring Roger Moore, Topol, Julian Glover, Carole Bouquet, Jill Bennett and Lynn-Holly Johnson.
Space Jam (1996) ITV2 5:00pm-6:45pm (1 hour 45 minutes)
Aliens arrive on Earth to abduct the Looney Tunes gang as a new attraction at their failing intergalactic theme park. To keep their freedom, Bugs Bunny and friends challenge the invaders to a high-stakes basketball game, calling on Michael Jordan to save the day and send the extraterrestrials back where they came from. Live action and animated comedy, starring Bill Murray and Danny DeVito, with the voices of Billy West and Bill Farmer.
Fun Fact: When Stanley comes into Michael's hotel room and says "C'mon, Michael, it's game time. Slip on your Hanes, lace up your Nikes, take your Wheaties and your Gatorade, and we'll grab a Big Mac on the way to the ballpark." All of those things were products that Michael Jordan had been a sponsor for around that time.
The Waterboy (1998) Film4 5:25pm-7:05pm (1 hour 40 minutes)
An American football team's waterboy puts up with constant ridicule from the players. But one day his anger gets the better of him and he demonstrates an unexpected talent for tackling – so the coach gives him a chance to prove his worth on the pitch. However, he has to keep his blossoming sporting career a secret from his overprotective mother. Comedy, with Adam Sandler, Kathy Bates, Henry Winkler and Fairuza Balk. Edited for daytime broadcast.
The Godfather (1972) Viva 9:00pm-12:35am (3 hours 35 minutes)
The patriarch of the Corleone crime family is hospitalised after an attempt on his life and entrusts control of his business to his three sons – the violent and unpredictable Sonny, the weak-willed Fredo, and Michael, the youngest brother, who reluctantly takes up the reins but proves to be the most ruthless of them all. Francis Ford Coppola's gangster drama, starring Marlon Brando, Al Pacino, James Caan, John Cazale, Talia Shire, Robert Duvall and Diane Keaton.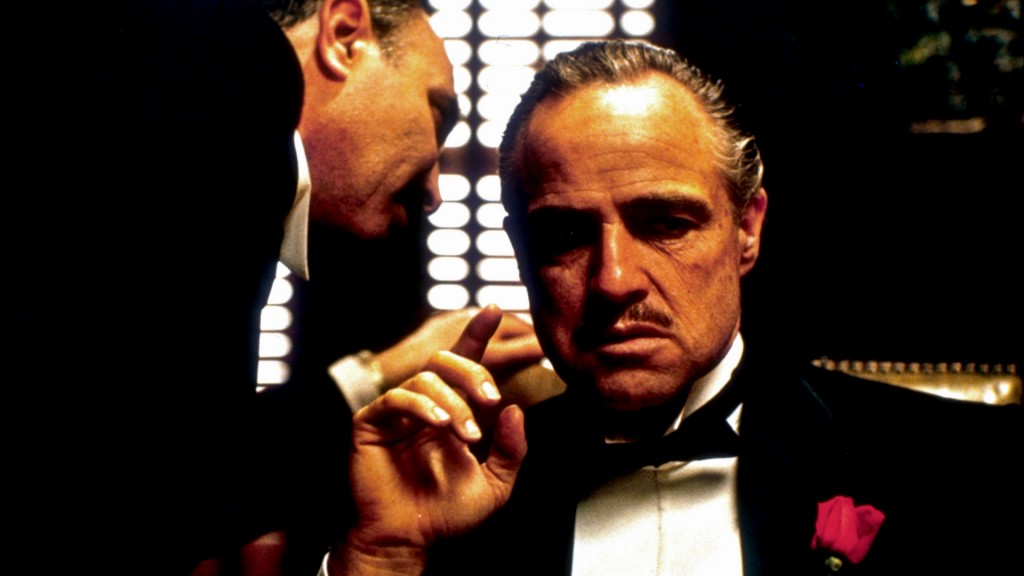 Parenthood (1989) ITV3 11:35pm-1:55am (2 hours 20 minutes)
Anxious family man Gil Buckman is determined to have a better relationship with his three children than he had with his tough father. Elsewhere, his two sisters are also having family problems – one is struggling to understand her two troubled teenagers, while the others husband wants to turn their toddler into a child genius. Comedy drama, starring Steve Martin, Keanu Reeves, Mary Steenburgen, Jason Robards and Dianne Wiest.
Whatever you're up to this weekend, make sure you always check for leaks, and remember to stop, look and listen.
xoxo