Wizbits' magic hat! Is it the Weekend!
So in a not too distant post apocalyptic Earth, let us be your marauding horde of flesh hungry zombies, clumsily ploughing through the debris of a broken and deserted city street. As we go moaningily looking with our good eye for retro movie mayhem, well hobble, limp and drag our half an eaten carcass for cinematic awesomeness before cornering and ripping apart the fresh plump flesh of celluloid wonder.
Gave a happy retro weekend!
SATURDAY 22nd FEBRUARY
A League of Their Own (1992) TCM 3:00pm-5:30pm (2 hours 30 minutes)
An alcoholic former professional player reluctantly agrees to train an all-female baseball team during the Second World War. With star player Dottie Hinson and her sister Kit on board, they look set to dominate the league – until sibling rivalry rears its head. Comedy drama, starring Geena Davis, Lori Petty, Tom Hanks and Madonna
Superman II (1980) ITV4 5:20pm-7:55pm (2 hours 35 minutes)
The Man of Steel meets his match in the form of three fugitive villains from his home planet of Krypton. Flying down to Earth, the super-powered trio unleash a reign of terror in a bid to take over the world – but Superman is not there to stop them, having surrendered his powers to lead a normal life with his beloved Lois Lane. Comic-strip adventure sequel, with Christopher Reeve, Gene Hackman, Terence Stamp and Margot Kidder.
| | |
| --- | --- |
| Men's Vintage Blue Distressed Superman Logo DC Comics T-Shirt | Ladies Vintage Blue Distressed Superman Logo DC Comics T-Shirt |
Jumpin' Jack Flash (1986) Movie Mix 9:00pm-11:10pm (2 hours 10 minutes)
A computer operator stumbles across an SOS from an English spy trapped in Eastern Europe. While trying to help him contact his superiors, she is plunged into international espionage, and ends up being pursued by KGB assassins and faced with unmasking a mole in British intelligence. Spy comedy, starring Whoopi Goldberg, Jonathan Pryce, James Belushi, Roscoe Lee Browne and Carol Kane.
Airplane! (1980) E4 9:00pm-10:50pm (1 hour 50 minutes)
The passengers on board an ill-fated airliner become increasingly jittery when the members of the flight crew flounder during a food-poisoning crisis. As ground control personnel struggle heroically to ensure the plane lands safely, a traumatised war veteran must face his fear to take the controls. Spoof disaster movie, starring Robert Hays, Leslie Nielsen, Robert Stack and Lloyd Bridges.
SUNDAY 23rd FEBRUARY
Freaky Friday (1976) Film4 4:20pm-6:15pm (1 hour 55 minutes)
A mother and her rebellious teenage daughter's simultaneous wishes to trade places results in them magically switching bodies for a day and gaining an unforgettable insight into each others lives. Disney fantasy comedy, with Jodie Foster, Barbara Harris, Patsy Kelly, John Astin, Charlene Tilton and Sorrell Booke
Junior (1994) ITV2 5:15pm-7:30pm (2 hours 15 minutes)
A fertility expert pioneers a treatment enabling men to become pregnant and carry babies to full term. When the authorities cancel funding for the research, he decides to test it on himself, but gives little thought to how difficult it will be to keep it a secret. The situation is further complicated when he starts to fall for the woman whose child he is carrying. Comedy, with Arnold Schwarzenegger, Danny DeVito, Emma Thompson and Frank Langella.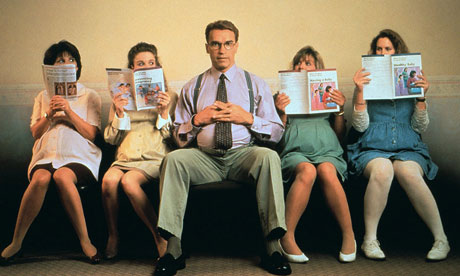 Independence Day (1996) Film4 6:15pm-9:00pm (2 hours 45 minutes)
A fleet of huge flying saucers launches a devastating and unprovoked attack on Earth. As survivors try to flee the seemingly unstoppable alien invaders, the courageous US president, an ace pilot and a computer genius come up with a plan to take the fight to the enemy and save the human race. Roland Emmerich's sci-fi adventure, starring Will Smith, Bill Pullman, Jeff Goldblum, Mary McDonnell, Randy Quaid, Robert Loggia and Harry Connick Jr
Kalifornia (1993) MGM Channel 8:40pm-10:40pm (2 hours)
A writer and his photographer girlfriend, who are researching a book on serial killers, travel across America with a former convict and his naive teenage girlfriend. They remain unaware that their traveling companion is exactly the kind of mass murderer they have only read about. Thriller, starring Brad Pitt, David Duchovny, Juliette Lewis and Michelle Forbes
Whip Crackalaka! Bonus movie clip time this week a little Airplane!
Whatever you get up to this Weekend remember to get milk and always enjoy yourselves.
xoxo