The Goonies has to be our all-time favourite film, it inspired the name of our company after all!  So we always get a little bit extra excited when a new Goonies T-Shirt arrives and this fresh and exclusive design is certainly no exception!
What a treasure! This highly nostalgic movie tee features a vintage distressed map as the background, set against the key characters represented in a silhouette print. A fab find for any child of the 80's who followed the adventures of Chunk, Sloth and the gang.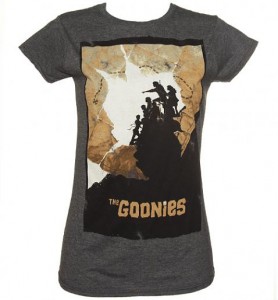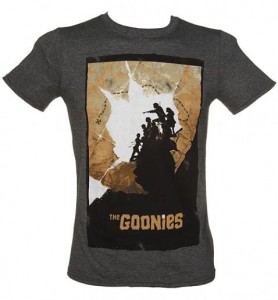 And if we've now got you in a Goonies state of mind have a look at some of our best-selling designs, these classics are available in both ladies and mens and are perfect for showing your love for one of the finest films of the 80s!
We all know that Goonies Never Say Die, so say it loud and say it proud with this amazing tee from the nostalgia specialists here at TruffleShuffle. The fab skull print has a wicked textured feel and has been distressed for that authentic vintage look!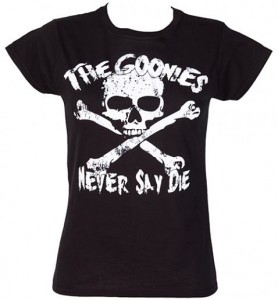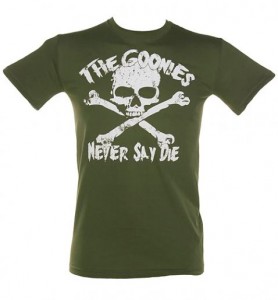 How to do the TruffleShuffle
1.Get in position with your feet apart and knees slightly bent
2.Lift your shirt up to your chin and expose that lovely belly
3.Shake that belly baby. DO IT!
If (like us unsurprisingly!) the Truffle Shuffle is your best bit of  The Goonies then you need this in your life. Featuring a print of the three steps involved in Chunks belly baring dance, it's a brilliant tribute to Chunk's piece de resistance!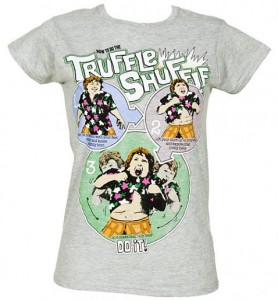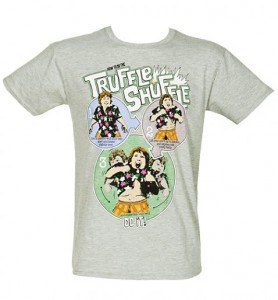 xoxo