Soap and water! It's only the weekend….again??
Like a keen car enthusiast takes care of their pride and joy, we're taking care of this weekend's retro movies. With our trusty buckets, mitts and hose, we'll wash away all the weeks grime and woe as we polish up the paint, buff out the shine before standing back to admire our handy work like a classic story trapped in celluloid wonder. We'll fire up the cylinders and drive swiftly through the back road channels, gazing at the movie masterpieces as we pass before locking ourselves safely away and enjoying the small hours of the night with just the light flicker from the screen.
Have a happy retro weekend!
SATURDAY 16th MAY
.

Jerry Maguire (1996) Sky Movies Drama & Romance HD 10:15am-12:40pm (2 hours 25 minutes)
An idealistic sports agent produces a mission statement at work promising to treat clients fairly. Unfortunately, it costs him his job. Forced to set up an agency on his own, the only people prepared to stand by him are a lovelorn staff accountant and a footballer. Cameron Crowe's romantic comedy drama, with Tom Cruise, Renee Zellweger, Kelly Preston, Jonathan Lipnicki, and Cuba Gooding Jr, who won an Oscar for his performance.
Kindergarten Cop (1990) ITV2 2:20pm-4:30pm (2 hours 10 minutes)
A tough detective is forced to pose as a preschool teacher in a bid to capture a drug dealer whose son is one of the pupils. However, his biggest challenge turns out to be controlling a class full of five-year-olds. Comedy, starring Arnold Schwarzenegger, Penelope Ann Miller, Linda Hunt, Pamela Reed and Richard Tyson.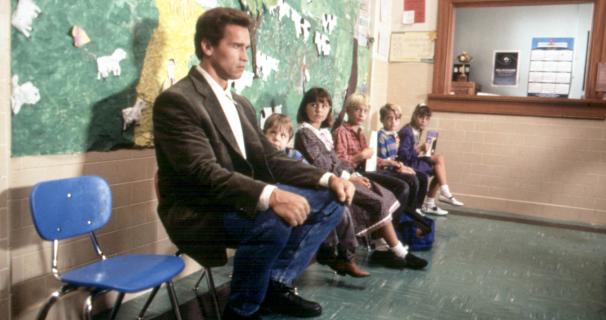 Flash Gordon (1980) Film4 2:50pm-5:00pm (2 hours 10 minutes)
American football quarterback Flash Gordon and journalist Dale Arden find themselves aboard a rocket ship designed by scientist Dr Zarkov, who intends to travel across space to locate the source of recent natural disasters. The three arrive on the planet Mongo, where they soon learn that the attacks are the responsibility of evil emperor Ming the Merciless, who is planning to destroy the Earth. Sci-fi comic-strip adventure, with Sam J Jones, Max von Sydow, Brian Blessed, Melody Anderson, Topol, Timothy Dalton, Ornella Muti, Peter Wyngarde and Mariangela Melato.
WarGames (1983) 5* 4:45pm-7:00pm (2 hours 15 minutes)
A teenager hacks into a top-secret military supercomputer, which challenges him to what he thinks is a game. However, the machine has complete control of the US nuclear arsenal, and the youngster's actions are unwittingly pushing the world to the brink of war. Thriller, starring Matthew Broderick, Ally Sheedy, Dabney Coleman and John Wood.
King Kong (2005) ITV2 5:40pm-9:20pm (3 hours 40 minutes)
A maverick film-maker and his cast and crew board a ship bound for a mysterious island – but when they arrive, a giant gorilla carries off their leading lady. As the crew makes its way through the teeming jungle to find her, the director concocts a dangerous scheme to capture the great ape and take it back to New York. Peter Jackson's remake of the fantasy adventure, starring Naomi Watts, Jack Black, Andy Serkis and Adrien Brody.
Spider-Man 3 (2007) Channel 5 6:45pm-9:20pm (2 hours 35 minutes)
A sinister alien parasite brings out the web-slinging hero's darker side, filling him with thoughts of revenge on his uncle's murderer, the shape-shifting Sandman. Meanwhile, he also has to contend with the challenge of his best friend following in his father's villainous footsteps – and a jealous rival developing superpowers of his own. Superhero sequel, with Tobey Maguire, Kirsten Dunst and James Franco.
Thunderball (1965) ITV4 8:00pm-10:45pm (2 hours 45 minutes)
James Bond travels to the Bahamas on the trail of two nuclear warheads stolen from a British aircraft. The lethal weapons have fallen into the hands of international crime syndicate Spectre, which plans to fire them at the US coast unless an exorbitant ransom is paid. Spy adventure, starring Sean Connery, Claudine Auger, Adolfo Celi and Lois Maxwell.
Fun Fact: Bond's jetpack was actually flown by engineer Bill Suiter. He was one of only two people in the world qualified to fly it.
The Mask of Zorro (1998) Watch 9:00pm-11:50pm (2 hours 50 minutes)
The sword-wielding saviour of Spanish California returns after 20 years in prison, tutoring a thief to take over his heroic role and tackle corrupt government officials, who are using slave labour to mine gold illegally. Both mentor and pupil have personal scores to settle with their enemies, led by a ruthless governor and a psychotic military officer. Swashbuckling adventure, with Anthony Hopkins, Antonio Banderas and Catherine Zeta-Jones.
On Deadly Ground (1994) ITV4 10:45pm-12:50am (2 hours 5 minutes)
A tough firefighter sets out to stop the destruction of native tribes and the natural environment by an unscrupulous oil company planning to drill in Alaska. Ecological thriller, directed by and starring Steven Seagal, with Michael Caine, Joan Chen, John C McGinley, R Lee Ermey and Billy Bob Thornton.
SUNDAY 17th MAY
.
The Money Pit (1986) Channel 5 2:00pm-3:45pm (1 hour 45 minutes)
Yuppie couple Walter and Anna buy a ramshackle old house and set about renovating it, only to see their dream home gradually turn into a nightmare. Anna also has to contend with her ex-husband, who is determined to talk her into giving their relationship another try. Comedy, starring Tom Hanks, Shelley Long, Alexander Godunov and Joe Mantegna.
Clockwise (1986) ITV3 3:40pm-5:35pm (1 hour 55 minutes)
A headmaster obsessed with punctuality catches the wrong train en route to a convention where he is due to make an important speech, a simple mistake that turns the entire journey into a frantic race against the clock. Comedy, starring John Cleese, Alison Steadman, Stephen Moore, Penelope Wilton and Joan Hickson.
The Hunt for Red October (1990) Film4 3:40pm-6:30pm (2 hours 50 minutes)
A Soviet submarine commander creates an international crisis by piloting his experimental nuclear vessel, which is invisible to sonar, toward the American coast. The US and Russian navies think he is planning to attack and set out to destroy the submarine, but a CIA analyst suspects he intends to defect to the West. Cold War thriller, based on Tom Clancy's novel, starring Sean Connery, Alec Baldwin and James Earl Jones.
See No Evil, Hear No Evil (1989) Channel 5 3:45pm-5:40pm (1 hour 55 minutes)
A blind man and his deaf friend go on the run to clear themselves of a trumped-up murder charge. However, all kinds of oddball characters are on their trail, determined to get hold of a top-secret microchip that the duo do not realise they have. Comedy, starring Richard Pryor, Gene Wilder, Kevin Spacey, Joan Severance, Alan North and Anthony Zerbe.
Three Men and a Baby (1987) E4 5:00pm-7:00pm (2 hours)
The lives of three flat-sharing bachelors are turned upside down when they discover a baby left on their doorstep. Unfortunately, while trying to get to grips with the necessary parenting skills, they find themselves menaced by criminals searching for missing drugs. Comedy, directed by Leonard Nimoy, starring Tom Selleck, Ted Danson, Steve Guttenberg and Nancy Travis.
The Great Escape (1963) Channel 5 +1 6:40pm-9:50pm (3 hours 10 minutes)
The most rebellious Allied prisoners of war are sent to a supposedly escape-proof maximum-security detention camp during the Second World War. They plan an ingenious mass breakout by digging a tunnel, but even when free of the camp, making it across occupied Europe proves a dangerous journey. Drama, starring Steve McQueen, James Coburn, Donald Pleasence, James Garner, Charles Bronson and Richard Attenborough.
Fun Fact: Hilts (Steve McQueen) strings a wire across the road to obtain a motorcycle. McQueen himself played the German motorcyclist who hits the wire.
Fun Fact 2: During the climatic motorcycle chase, John Sturges allowed Steve McQueen to ride (in disguise) as one of the pursuing German soldiers, so that in the final sequence, through the magic of editing, he's actually chasing himself.
Braveheart (1995) Film4 9:00pm-12:25am (3 hours 25 minutes)
Account of the life of medieval Scottish hero William Wallace. After the slaughter of his father and brother, young Wallace is taken in by his uncle, who teaches him how to use not only his brawn but his brain – which he employs to great effect years later when he resolves to drive the English out of Scotland. Oscar-winning historical epic, directed by and starring Mel Gibson. With Patrick McGoohan, Sophie Marceau and Catherine McCormack.
Whatever you're up to this weekend, don't forget to check your blind spots and that locking the door isn't just for your benefit. Sometimes.
xoxo