The TV show that everyone's been talking about this year is of course, Stranger Things.  An amazing new series that combines 80s nostalgia with a creepy horror/sci-fi storyline, a great cast (which sees the return of Winona Ryder) and a glorious synth soundtrack, it reminds us of some of our favourite 80s films like The Goonies and ET which can only be a good thing!
Set in the fictional town of Hawkins, Indiana. The plot follows the disappearance of a young boy and the lengths that his group of friends go to as they try to find him, along the way they meet a telekinetic young girl called Eleven with the powers to help them in their search, we don't want to spoil anymore of the plot but it's a fascinating watch!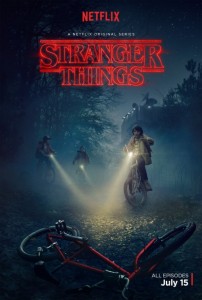 It's a show that couldn't be more us, so inspired by the series we have put together a range of Stranger Things T-Shirts that any fan is sure to love!  Whether you're favourite character was Eleven, you were intrigued by the mystery of The Upside Down or even if you loved the sharp fashion sense of Barb there's a tee for everyone!
As well as T-Shirts we've got some fab mugs and tote bags.  In the show Chief Hopper noted "Mornings are for coffee and contemplation" and what better way to welcome the start of a new day than with a hot brew in one of our exclusive mugs!?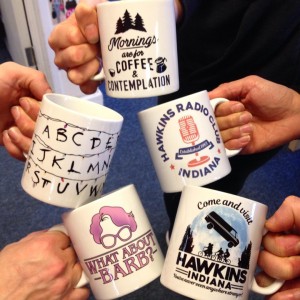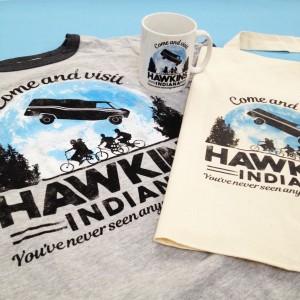 We think it's an amazing collection and remember, friends don't lie!  As well as Stranger Things we've also got a huge selection of TV Show Merchandise to look through with something for everyone, so treat yourself to a browse!