You heard it! We always love to hear from our customers and naturally, we love a good competition too so why not combine two of our favourite things with an amazing chance for you guys to win £50 to spend!


.


Have you snapped up something from us and would like to share your experience and thoughts? Whenever you bought something and whatever you bought, you can turn your thoughts into cash with our Review of the Month Competition!


.

The review section of the website is a great way to leave your feedback on a product and our service as a whole which will also help provide new customers with first-hand experience of our items, customer care, delivery and help fill all our new customers with confidence to join the fun!


.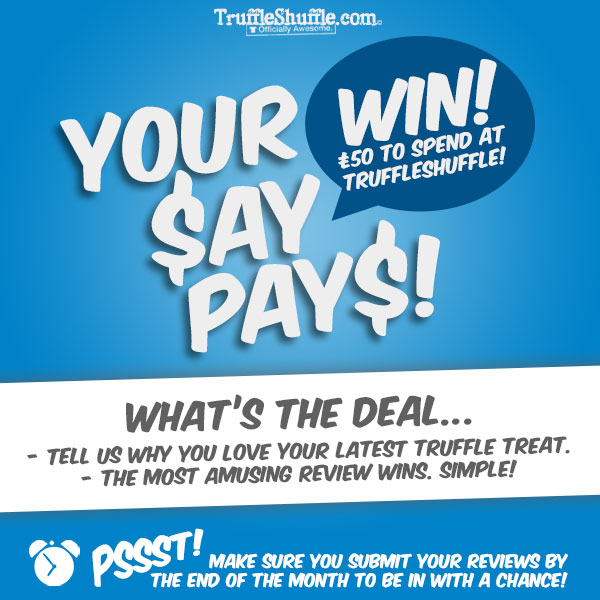 Entering for your chance to win really couldn't be simpler too – all you have to do is pop your thinking caps on, head on over to TruffleShuffle then simply find the product you wish to review and tell us all about your shopping experience with us.

The review at the end of the month that makes us laugh, smile or simply saw 'awww' the most will be out lucky winner. Easy. as. that!

Leaving a Review

All you have to do is find the product you ordered, and click on either 'Be the first to review this product.' or 'Write a review of this product' depending on if you're the first – and tell us about your purchase.

You can also review the site and us as a whole over on TrustPilot. This is a separate review site from us but is super helpful as these will be seen by everyone who finds us on a search engines and will let them know who we are and what we're like and importantly, if we can be trusted so help put people's minds at rest.
.


Find us here: www.trustpilot.co.uk/review/www.truffleshuffle.co.uk
Some things to think about when you are leaving your review could be….
What did you love about the product? Fit well? Good print?
Did you enjoy our website and your shopping experience?
Did your order arrive nice and quickly? Was it packaged well?
Is there anything you would change?
Would you recommend us to your friends/family?
So there you have it! Head on over to the site now, have your say and you never know it just might pay!
Each month the winner will be revealed at the start of the next month so stay tuned for that in a few days from now.
Good luck!
xoxo