I have been absolutely addicted to the new epic medieval fantasy TV series Game Of Thrones recently.  Based on the set of books A Song of Ice and Fire by the much loved author George R. R. Martin, this series has been brought to life by the amazing and established American production company HBO.  The box set of the first series was recently released here in the UK a few months ago which is where I got my fix, I've honestly never raced through a TV series so quickly!  The second series has just finished airing in the US, so until it finds it's way over to our shores I've got these two fab new T-shirts to keep my attention and show my love of the series!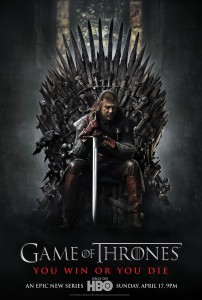 The first of our new designs focuses on one of Series Ones central families, The Starks.  It features the sigil of Stark House, an impressive grey Direwolf, along with one of Ned Starks must uttered mottos 'Winter Is Coming'.  Perfect for me to show my respect to my favourite Game of Thrones families instead of those pesky Lannisters!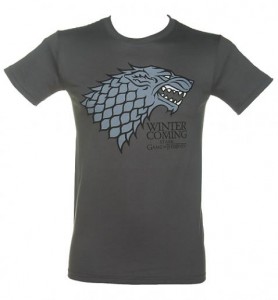 Another of my favourites from the series had to be Daenerys Targaryen who had a great storyline that saw her completely grow as a character up to her explosive final scene of the first series.  This tee represents the sigil of the Targaryen House, a three headed dragon along with the motto Fire and Blood.  Out of all the characters I'm especially looking forward to seeing what adventures she will get up to in the second series!
What do you guys think of our first Game of Thrones tees?  Have we covered your favourite houses or characters, if not let us know which Game of Thrones tees you would love to see and we will do our best to try and get them for you!