Being a massive fan of old skool gaming I am very excited to unveil a new range of giftware featuring Pac-Man, everyone's favourite ghost-gobbling, pill-guzzling, motor mouth!
I'm a huge fan of the all time classic arcade game and always used to get super excited whenever I would see the Pac-Man booth in the arcades, it was always the best way to spend my ten pence pieces!  An interesting fact for you (possibly nicked from the Scott Pilgrim film…) is that Pac-Man was originally called Puck-Man, this comes from the Japanese phrase 'Paku-Paku' which means to flap one's mouth open and closed.  There you go, you learn something new every day!
I know it's a little bit early to talk about as these gifts are going to be added throughout the next month, but I am really pleased to be able to show you what great things there are to look forward to.  With products ranging from bottle openers to soap on a rope there's something for everyone!  Here's a rundown of what's due.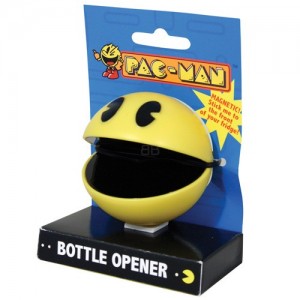 Shaped just like the Pac-Man character with his distinctive eyes and open mouth, the Pac-Man Bottle Opener is guaranteed to be a conversation starter at any party. His distinctive yellow body and black eyes and mouth means he'll really stand out in your kitchen drawer. However, you probably won't want to hide him away so two small magnets have been incorporated onto the back of the bottle opener allowing him to be attached conveniently to your fridge door. The presence of the two magnets also means bottle tops stick to the magnets once opened rather than being thrown on the floor, allowing them to be disposed off tidily.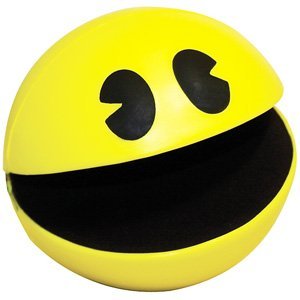 The perfect gift for any stressed out video game enthusiast or retro collector. Can't finish that super hard level? Give Pac-Man a squeeze, we're sure he'll help!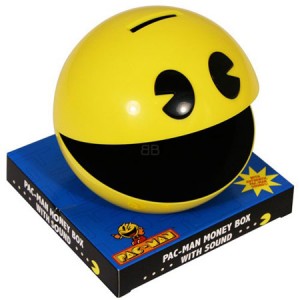 The Pac-Man Money Box with Sound features the familiar open-mouthed pose of Pac-Man. Every time a coin is inserted, the authentic gaming sounds of Pac-Man gobbling up the pac-dots are triggered. The Pac-Man Money Box measures 12 cms in diameter so there's loads of room to save your pennies. Pac-Man fans will love hearing the instantly recognisable wakka-wakka-wakka noise as Pac-Man gobbles up their money.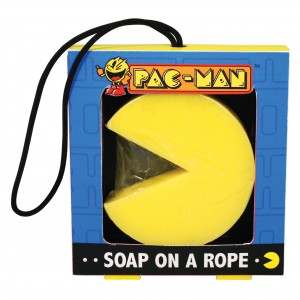 The Pac-Man Soap on a Rope is shaped into the instantly recognisable profile of Pac-Man! Weighing approx 105gms, it's scented with watermelon and is is attached to a black rope enabling it to be hung on a hook inside the shower. Very handy! Presented in an officially licensed Pac-Man gift box, it would make a great present for anyone who loves 80's nostalgia.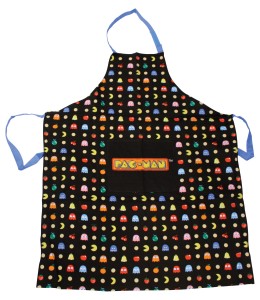 Gobble up ghosts while youre chopping up carrots with this officially awesome Pac-Man apron! It features all the well-known characters from the game so you've got Pac-Man, the ghosts, the pac-dots and even the bonus fruit in a repeat pattern, all set against a simple black background! The ties come in contrasting blue and the neck tie can be adjusted for a better fit. The apron also has a large, handy pocket at the front so you can store various cookery utensils whilst preparing your culinary masterpiece. Sustained a few spillages? Never mind, the Pac-Man Apron is made from 100% cotton and is machine washable at 40C degrees so it'll stay looking good wash after wash.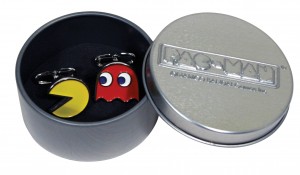 This wicked Pac-Man Cuff Link set comprises one cuff link featuring Pac-Man in profile and one of Blinky, the red Ghost character from the game. The chrome effect cuff links are embossed with the official Namco Bandai logo on the back and are presented in a smart, silver-coloured gift tin which is embossed with the Pac-Man logo. The presentation tin measures 5.5 cm in diameter and can be used to keep your Pac-Man cuff links safe or as a storage tin for similarly small items! Perfect for any guy who remembers the golden days of arcade video games!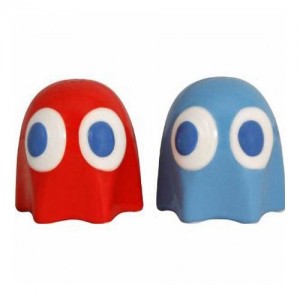 These super-cute Ghost Salt and Pepper Pots which will lend any kitchen table an air of quirky, retro cool. Modelled on Blinky and Inky, they measure just over 6 cms in length and are really easy to clean inside and out. The red Ghost Pot is intended for salt as indicated by the holes in the top forming an 'S' shape. Similarly, the blue Ghost Pot is intended for pepper and the holes for the pepper form a 'P' for easy identification. Easily refilled by removing the plastic bung at the bottom of each pot and adding salt or pepper accordingly, they come packaged in the official Pac-Man gift box making them a great gift for all fans of 80's retro.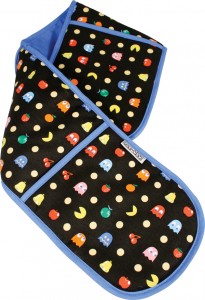 Stay on your game in the heat of the kitchen with these durable Pac Man oven gloves! The gloves are trimmed in blue and feature all the well-known characters from the classic arcade game including Pac-Man himself, the Ghosts and even the bonus fruit and pac-dots creating a colourful effect on the black background! So cool!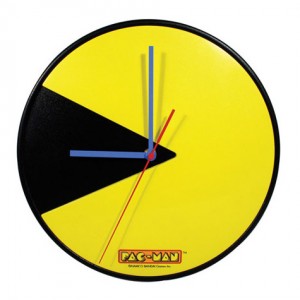 This collectable Pac Man inspired clock is an absolute must for video game fans of any era! Featuring the Pac Man character in profile, it measures thirty cms in diameter and if you look closely, you'll spot that the hour and minute hands are blue and the second hand is red, reminiscent of the blue and red ghosts in the game, Blinky and Inky. The distinctive Pac-Man logo is featured at the bottom of the clock but there are no numbers around the dial to detract from its simple, clean appeal. The Pac-Man Wall Clock is powered by 1 x AA battery (not included) and has Quartz precision timing so no mechanical winding is necessary. It comes packaged in an official Pac-Man gift box and is sure to be a much talked-about feature in anyone's kitchen!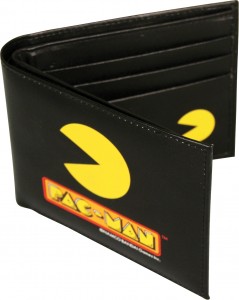 The Pac-Man Wallet is slim yet spacious enough to contain all your essentials! With two compartments for bank notes, four compartments for credit cards, one zipped compartment for coins and a photo ID window, it measures just over 11 x 9 cms. The Pac-Man character is featured on the front of the wallet and on one of the pockets inside and the red Ghost character, Blinky, is featured on the back of the wallet. This stylish yet sturdy faux leather wallet combines retro cool with simple practicality and any man is going to want to get his wallet out just so he can show it off!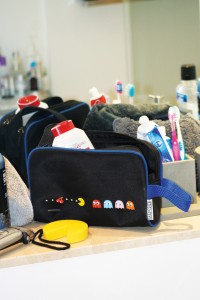 Featuring your favourite items from the iconic game, this wash bag is pure old school cool! Power pellets not included!
Phew, what a list!  There's got to be something to get you excited amongst that lot.  I'm the worlds worst cook but I'm considering learning just so I can rock out in the kitchen with the Pac-Man Apron and Oven Gloves, and that Pac-Man Clock will look awesome on my living room wall!  How about you guys, is there anything tickling your fancy in this collection?