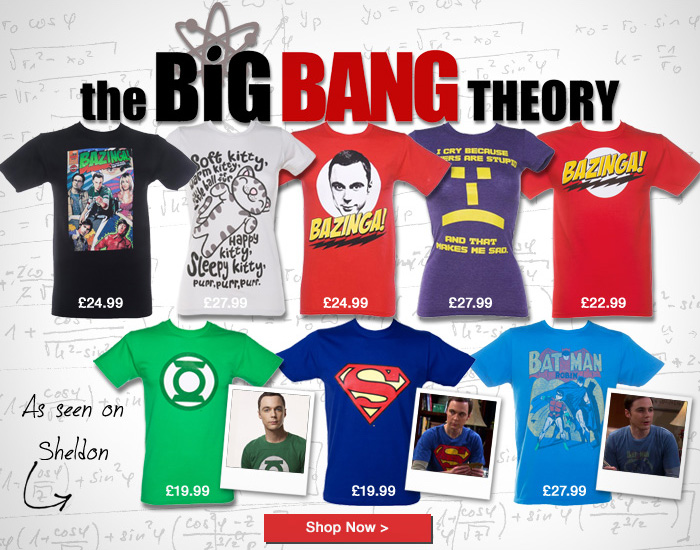 We are proud to announce the release of Big Bang Theory T-Shirts onto TruffleShuffle.com
As huge tv nerds and avid watchers of pretty much anything that gives us a giggle, naturally we're in love with The Big Bang Theory! This cult American sitcom that first entered our lives back in October 2007 and since has gained a massive following. Now into it's fifth season there have been over 100 episodes for us fans to enjoy!
For those of you not in the know here's a quick bio:
The show is centered on five characters: roommates Leonard Hofstadter and Sheldon Cooper, two physicists who work at the California Institute of Technology (Caltech); Penny, a blonde waitress and aspiring actress who lives across the hall; and Leonard and Sheldon's equally geeky and socially awkward friends and co-workers aerospace engineer Howard Wolowitz and astrophysicist Rajesh Koothrappali. The geekiness and intellect of the four guys is contrasted for comic effect with Penny's social skills and common sense. Three other supporting characters have also been promoted to starring roles: Leslie Winkle, a physicist colleague at Caltech and, at different times, a lover of both Leonard and Howard; Bernadette Rostenkowski, Howard's fiancée, who is a microbiologist and part-time waitress alongside Penny; and Amy Farrah Fowler, a neurobiologist who joins the group after being matched to Sheldon on a dating website. – Wikipedia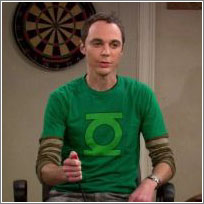 Fans and all things retro obsessed people like us will have noticed quirky cheif geek Sheldon's (Jim Parsons) fantastic collection of retro t-shirts, including classic superheros such as 'The Flash' and 'The Green Lantern' (see right).
From the start of the show he has risen to become a style icon for geeks alike, so much so that there are literally thousands of people searching for his t-shirts online every month!
One of Sheldon's running catchphrases in the show is 'Bazinga' – meaning 'Got ya!' or 'Fooled you'. He commonly uses the phase after he has pulled a prank on his room-mate Leonard.
Check out this cheeky clip blow of Sheldon putting this in action:
To show our love for this hit cult show we have launched men's and ladies 'Bazinga' themed t-shirts, check them out below:
Another popular sketch on The Big Bang Theory is that of 'Soft Kitty'. When Sheldon was ill as a youngster his mum used to sing 'soft kitty' to help him to fall asleep and to make him feel all better. In the absence of his mother this duty has now fallen upon a reluctant Penny, the girl who lives in the room across the hall. If you have never heard the song 'Soft Kitty' then check out the short video below, just an little warning though, after watching the video you will be unable to get the song out of your head for the rest of the day:
As well as these amazing Bazinga T-Shirts we have also just launched a men's and ladies 'Soft Kitty' T-shirts onto the site, check them out below:
Want to view the whole range? Click here:  Big Bang Theory T-Shirts.
Do you love the Big Bang Theory? Do you love our new range of T-Shirts? Share your thoughts below.