A new month approaching can only mean ONE thing at TruffleShuffle – Review of the month time! We give one lucky customer £50 to spend on the site! It's really simple for you guys to enter – and for us it's one our favourite competitions to judge. We love browsing through all the entries – from how the t-shirt fits, your reaction when the postman delivered it less than 24 hours after you ordered, the comments you get from fellow fans – and the memories that come flooding back when you wear it!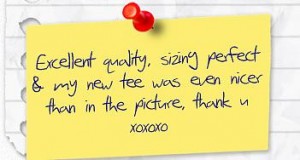 All you have to do is find the product you ordered, and click 'add a review' – and tell us about your purchase. Some things to think about when you are typing your review:
What did you love about the product you bought?
Who would you recommend this product for?
Did you enjoy our website and your shopping experience?
Did your order arrive nice and quickly?
Is there anything you would change?
Would you recommend us to a friend?
Last months winner reviewed our Exclusive Ladies Dance Magic Dance Sweater and bagged herself a gift voucher for the site.
"When I saw this jumper, I just has to have it! While ordering it all I could do was sing to myself, 'Slime and snails, Puppy dogs tails, Thunder or lightening, Then baby said….' Labyrinth is one of my all time favourite movies and I had a huge crush on David Bowie (including bulge) ;)!!! I think I'll probably get some of the other tshirts as well, they'll look great with skinny jeans 🙂 I love truffleshuffle stuff. You can't get it in shops and I'm always being asked where I got my top! Thank you and Well done on another amazing addition guys!"
To check out all the other reviews click here. There is no limit to how many products you can review, and you have 5 days to get your entries in – as we judge the reviews on the 1st day of every month! Good luck TruffleShufflers! xoxo