With the Sun just starting to peep it's little head from out of the clouds…well sometimes, we're feeling all Summery already which has sent our minds awash with thought's of the coming months and all that the good weather brings with it. One of the absolute highlights of any good Summer is of course…. Festivals (and well BBQ's of course).

Heading out to a big music event without even just one band t-shirt should frankly be considered a sin, okay okay so maybe turning up to the world biggest electro festival in a classic rock t-shirt might be a bit odd, BUT for the most of us attending the likes of Glasto, Reading and Leeds, Download, T in the Park etc, a humble rock t-shirt is the perfect partner in crime.

To help you guys find you perfect style this season, we've been working hard to bring in some amazing new designs that are sure to tickle your t shirt taste buds. Check out our latest collection from vintage t-shirt powerhouse Amplified Clothing….

Well…they're back and still at it! Yep The Rolling Stones have just kick-started their 50 Years and Counting Tour just last week in LA and as far as we can see, they've still got it! It's amazing how they can still bring so much energy and entertainment a whopping half a century on. We're celebrating this amazing feat with our latest Rolling Stones T-Shirts to show just that.
| | |
| --- | --- |
| Mens White Some Girls The Rolling Stones TShirt from Amplified Vintage | Ladies Charcoal Fifty Years Rolling Stones TShirt from Amplified Vintage |
Yet another blast from the past! Black Sabbath are also still at it with their Nourth American tour kicking off in late July and some impressive UK dates booked in for December, there's just no stopping good music! Pay homage to the mighty Sabbath with our fab new Black Sabbath T-Shirts that are packed with vintage style and design. We dare you to find better 🙂
We've loved the Red Hot Chili Peppers from the very start! Bringing out some amazing classics back in the day like 'Aeroplane' and 'My Friend', and then later Blood Sugar Sex Magik where you can't help but love every single song, these albums will stay in our collections forever. Now still bringing out some amazing albums and expressing their opinions in the most creative way possible, this classic RHCP logo tee is are real icon and instantly recognisable to fellow fans.
| | |
| --- | --- |
| Mens Charcoal Dripping Red Hot Chili Peppers TShirt from Amplified Vintage | Ladies Charcoal Dripping Red Hot Chili Peppers TShirt from Amplified Vintage |
Now any collection of rock tees couldn't be complete without a humble Ramones T-Shirt now would it! This awesome new tee is a great way to pay homage to the US punk rock band which stormed the charts and rocked out venues throughout the 70's, 80's and 90's.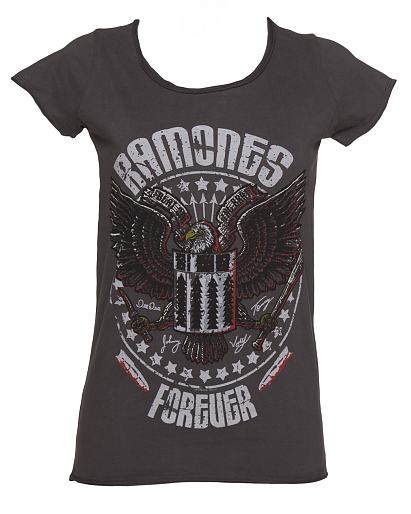 Paying homage to Metallica's third album, Master of Puppets, widely considered as one of the greatest metal albums of all time. This wicked Metallica T-Shirt features a distressed print of the album cover art making it perfect for any fan. Treated to a vintage wash for that authentic aged look. What a dream!
Don't forget to check out the rest of our Amplified T-Shirts today and pick up something that's perfectly in tune with your music tastes and fashion style today.
xoxo