Okay okay, NOW we're starting to feel old 🙁 But hey! There's still plenty of reasons to be both happy and proud about growing up at the time we did, we live that fact every single day with our huge collection retro inspired tshirts and gifts that just have us re-living the best childhood years ever….sooooo we're not too worried now.
Alas! As spine-tingling, mind blowing, heart pounding as it is to believe, 80s icon and total movie masterpiece Top Gun is turning a whopping 28 years old today. Eeeep!


.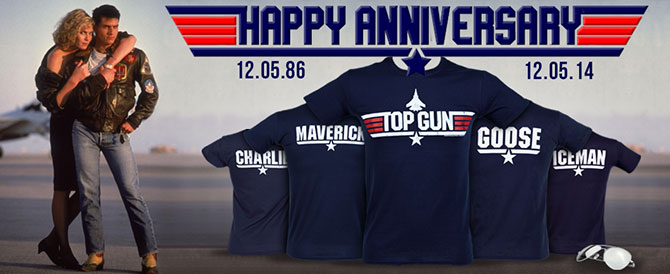 Since hitting the silver screen for the first time back on the 12th of May 1986 at it's premiere in New York, it's had a home in all of our movie collections and has inspired some of or bestselling t-shirts EVER and many a stag weekend too. 🙂
To celebrate in style, we thought we would put together some of our top reasons that Top Gun is just so cool including some of our favourite scenes, quotes and pictures to have your nostalgia taste buds tinging.
So let's try and answer one simple question…Why is Top Gun just so cool? Well!!


.
The Flight Scenes…
Even though there are some pretty big names in the film, the real stars of the show are the Fighter Jets, F-14 Tomcat's in fact. Giving us some amazing action sequences and dogfights, both in the cockpit and out. Nothing seems more cool than these after watching this film.
The Briefings…
Always a chance to show off, get put back in their place and repeat, the crew are full of highly skilled and very cocky pilots who have egos too big to barely fit in the plane. So many good moments and brilliant character dynamics. Love it!
Maverick being a badass…
Pretty much as unruly as they come, Maverick is the ultimate badass of the sky, doing what he wants, borderline reckless but with enough skill to pull it all off in style. Everyone wanted to be him and hell… we still even do!
Maverick: Tower, this is Ghost Rider requesting a flyby.
Air Boss Johnson: Negative, Ghost Rider, the pattern is full.

The Bromance…
Firstly between Maverick and Goose who is his initial wingman and true buddy, we all felt the heartache with Maverick after his sad accident. Later however, Maverick forms a new bromance with a classic hate-at-first-sight bromance with Iceman. We all know how this ends…."You can be my wingman any time." Aww.
Talk to me, Goose!
The Romance…
A huuuuge part of the film, the relationship between Maverick and Charlie is bursting with passion and long smiling gazes just like you did with your crush in the class room at school. 
Carole: Hey, Goose, you big stud!
Goose: That's me, honey.
Carole: Take me to bed or lose me forever.
Goose: Show me the way home, honey.

THAT Bar Scene…
Everyone wishes they had the guts to pull something like this off, and for these guys it's just another night at the bar. Such a classic scene which shows the fun between the group and of course Mavericks deep attempts to impress his future lady.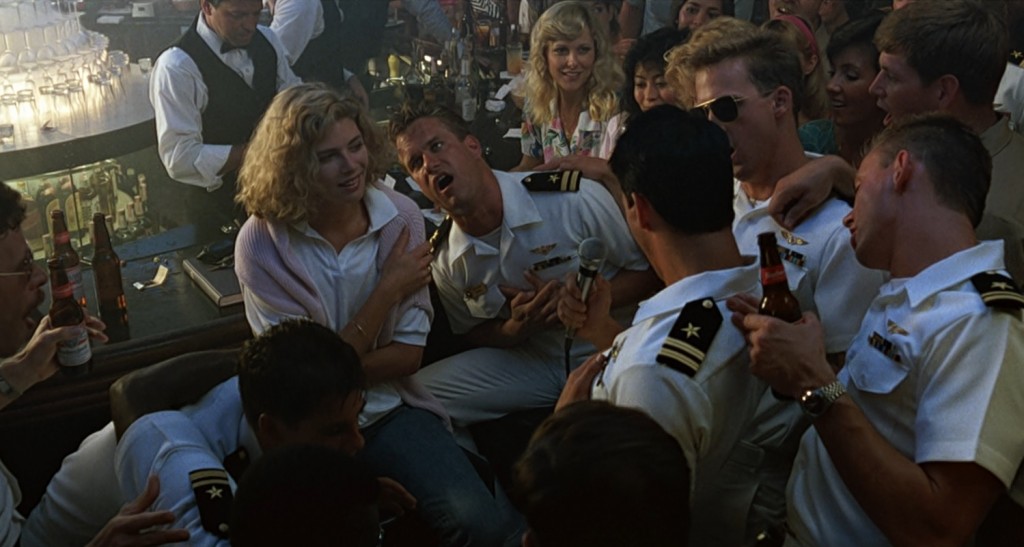 Shirtless Volleyball…
Not a whole lot to say about this one. Say the name Top Gun and people will have these images in their head. Packed with amazing moves, rivalries and of course a sweaty torso or four.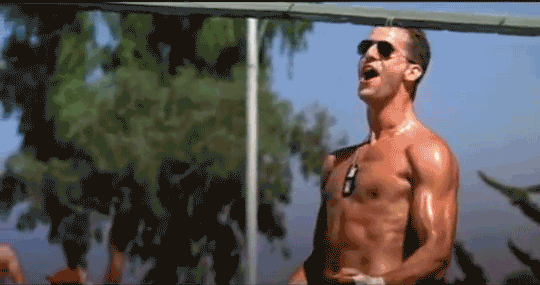 Those Glasses…
Images from this iconic movie  are surely still on everyone's mind when it comes to the number one sunglass the Ray-Ban Aviator 3025. Still some of the most iconic glasses to be rocking these days and Arguably the most famous shades style on the planet. This films just wouldn't be the same without them would it?!
So there you have it folks! What a great way to celebrate a whopping 28 years of Top Gun in our lives. But don't worry! We're sure there are still plenty of cool years left in this film and also plenty of way to show your love with our amazing range of Top Gun T-Shirts and of course, our very own Top Gear Sunglasses 🙂 Take a peep at some of our most popular designs below…
So what are your favourte Top Gun moments and memories? Let us know by leaving a comment blow.

xoxo