Au contraire! Can you believe it!? This great British icon originally started life back in 1981 and has been classed as a classic ever since.

With sooo many brilliant comedy moments (and quotes!) to hold to it's name, this hit show managed to mix classic comedy with compassion, joy, tears and everything in between to keep us hooked.
Celebrating 33 years today since it's very first episode, we thought we would put together some of our all-time favourite moments so you can take a quick trip back down comedy memory lane and also re-live some of our highlights. Enjoy!


.
'Blow' Up Dolls! (Danger UXD, 1989)
Del thinks he's got a bargain when he gets hold of a consignment of blow up dolls on the cheap. Little does he know that they are self inflating and filled with propane.
The Chandeliers (A Touch of Glass, 1982)
Certainly one of the most iconic moments is the scene with a chandelier in the home of Lady Ridgemere. After Rodney is lured into one of Del boy's money making ideas a chandeliers cleaning service, things quickly go wrong with classic comedy timing as the wrong one is released sending the priceless light to it's death.
Triggers Broom (Heroes and Villains, 1996)
One of Roger Lloyd-Pack's most famous scenes in the entire show, in this scene shows Trigger claims that he's had his road sweeper's broom for 20 years, but has actually replaces the head 17 times and the handle 14 times. After he is asked, "How can it be the same bloody broom then?" Trigger shows him a picture of him and his broom and says, "what more proof do you need?". Classic!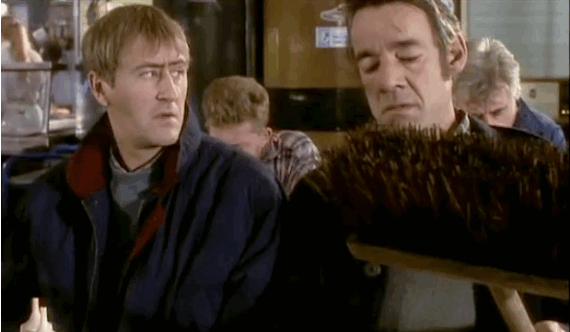 Del Boy's 'Run' in with the law
We love this scene! While giving off one of his classic sales speeches to a captivated crowed, he is quicky spotted by a bobbie while Rodney (the lookout) is daydreaming. Such a classic comedy chaise which pretty much sums up their lives. Legend!
Del Falls Through the Bar (Yuppy Love, 1989)
Now this list has been in no particular order, but this is without a doubt THE most classic moment of the entire show! Everyone remamber seeing this brilliant moment, and most of us have wanted to act this out in the pub ourselves. This has even been voted in some polls, the funniest comedy moment of all-time!
It's a baby! (Three Men, a Woman, and a Baby 1991)
That classic moment when Del Boy exclaimed with joy when asked by Albert "What is it?", with the immortal words, "It's a Baby!" Such a great episode full of amazing moments and some really heartfelt script. This has everything!
We are Millionaires! (Time on Our Hands, 1996)
A real turning point in the entire show, this episode shows the moment the boys have been waiting for all their lives. After finding a watch in their garage, they gain a whopping £6,200,000!
Not so Super heros (Heroes and Villains, 1996)
It has already gained iconic status as one of the most memorable moments in Only Fools history. The scene was set brilliantly and their arrival through the mist at the scene of the attempted mugger after their car breaks down on the way to a 'fancy dress' party….. just perfect!
Love this classic TV show as much as we do? Take a peep at our amazing range of official Only Fools and Horses accessories, gifts, mugs, dressings gowns and more….


.
Not only that! Over on our Facebook page we need YOU! Let us know which of our cool designs below you would choose and we'll make the most popular!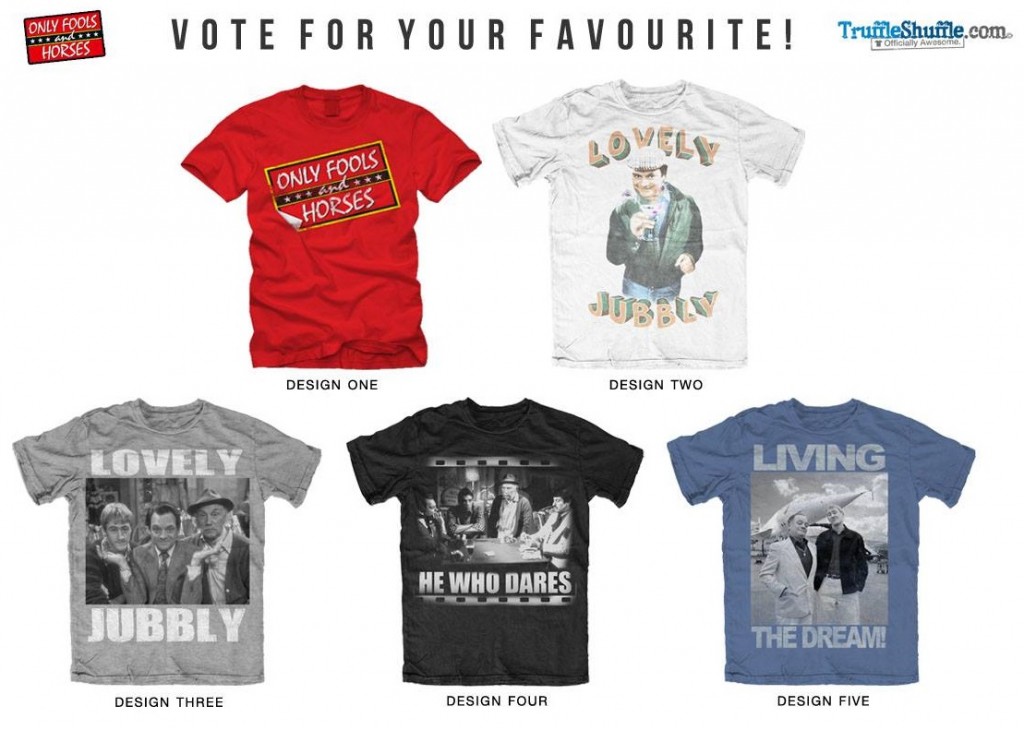 Happy Birthday Only Fools and Horses!
Adegos!