Double rainbow! Is it really the weekend? Already? So soon? Okay!
Like a local food guru taste testing their way through a local fate bake competition, we find ourselves once again facing a whole line up of treats, all waiting for us to sample, enjoy and reward. We'll work our way through the cinematic greats like tucking into some delicious fruitcake, sweet, homely, and hearty all topped up with a sneak of alcohol. A perfect movie night in!
SATURDAY 14th NOVEMBER
.
Black Beauty (1994) ITV3 10:55am-12:45pm (1 hour 50 minutes)
A stallion recalls the events of his life and a succession of good and bad owners. His carefree youth on a country estate is brought to an end by a stable fire, and he ends up enduring a hard life pulling a hackney cab in Victorian London. Family drama based on Anna Sewell's novel, starring Sean Bean, David Thewlis, Jim Carter and Eleanor Bron, with Alan Cumming providing the voice of the horse.
My Neighbour Totoro (1988) Film4 11:00am-1:00pm (2 hours)
Two sisters move to a new home in the countryside when their mother is taken ill. They are thrilled to discover the house is next to an enchanted forest, and befriending the eldest and wisest of the strange magical creatures dwelling there. Animated fantasy from Spirited Away director Hayao Miyazaki, with the voices of Dakota and Elle Fanning.
Scrooged (1988) Film4 3:00pm-5:00pm (2 hours)
A heartless TV executive is cruel to his employees and just sees the festive season as an opportunity to make money. However, on Christmas Eve, three ghosts arrive in the night and challenge him to change his cynical ways by showing him his past, present and future. Comedy based on Charles Dickens' A Christmas Carol, starring Bill Murray, Karen Allen, John Forsythe, David Johansen and Carol Kane.
Scooby-Doo (2002) ITV London 4:05pm-5:45pm (1 hour 40 minutes)
The hapless hound and his chums reunite after a bitter break-up to solve a baffling mystery in the ghost-themed tourist resort of Spooky Island, whose owner is convinced he has a genuine haunting on his hands. Live-action comedy adventure based on the cartoon series, starring Sarah Michelle Gellar, Matthew Lillard, Freddie Prinze Jr, Linda Cardellini and Rowan Atkinson.
Street Fighter (1994) 5* 5:50pm-7:55pm (2 hours 5 minutes)
A military officer goes in search of a power-mad general who is holding several hostages in a secret location. He soon finds he is not the only one on the maniac's trail, and joins forced with a mismatched band of martial artists to save the captives. Action adventure based on the video game, starring Jean-Claude Van Damme, Raul Julia, Kylie Minogue and Ming-Na Wen.
Star Trek III: The Search for Spock (1984) Dave 6:15pm-8:20pm (2 hours 5 minutes)
Admiral Kirk and his crew hijack the decommissioned Enterprise to recover the body of their fallen comrade Mr Spock from the planet Genesis. Kirk has learnt that Spock's spirit is still alive, and the Vulcan can be resurrected, but he must also battle a Klingon captain determined to control the planet's mysterious energy. Sci-fi sequel, directed by Leonard Nimoy, with William Shatner, DeForest Kelley and Christopher Lloyd.
Kindergarten Cop (1990) ITV2 6:45pm-9:00pm (2 hours 15 minutes)
A tough detective is forced to pose as a preschool teacher in a bid to capture a drug dealer whose son is one of the pupils. However, his biggest challenge turns out to be controlling a class full of five-year-olds. Comedy, starring Arnold Schwarzenegger, Penelope Ann Miller, Linda Hunt, Pamela Reed and Richard Tyson.
Starman (1984) Film4 6:45pm-9:00pm (2 hours 15 minutes)
An alien who crash-lands on Earth falls in love with a widow after assuming her dead husband's identity as a cover, but the duo are soon fleeing the authorities in a frantic effort to reach an extraterrestrial rescue ship. Sci-fi fantasy romance, directed by John Carpenter and starring Jeff Bridges, Karen Allen, Charles Martin Smith, Richard Jaeckel and Robert Phalen.
Robin Hood: Men in Tights (1993) AMC 7:00pm-9:00pm (2 hours)
The heroic outlaw returns from the Crusades to discover the country is in the grip of evil Prince John and the Sheriff of Rottingham, so he unites a motley band of warriors to overthrow them. Mel Brooks comedy, starring Cary Elwes, Roger Rees, Richard Lewis, Tracey Ullman, Amy Yasbeck, Patrick Stewart, Isaac Hayes and Dom DeLuise.
The Inbetweeners 2 (2014) Channel 4 9:00pm-10:55pm (1 hour 55 minutes)
Premiere. Awkward teenagers Will, Simon and Neil find university life does not live up to their expectations, and are insanely jealous of Jay's stories of his gap year in Australia. Heading Down Under to meet their friend, they inevitably discover he has exaggerated his escapades – so decide to go in search of a real adventure. Comedy sequel, starring Simon Bird, James Buckley, Joe Thomas and Blake Harrison.
2 Fast 2 Furious (2003) ITV2 9:00pm-11:10pm (2 hours 10 minutes)
A disgraced former cop is arrested by the FBI for illegal street racing, but his one-time colleagues offer him freedom in exchange for going on an undercover mission. Teaming up with an old racing friend and a customs official, he has to infiltrate and bring down a drug-trafficking operation. Thriller sequel, with Paul Walker reprising his role from The Fast and the Furious alongside Tyrese Gibson, Eva Mendes and Cole Hauser.
SUNDAY 15th NOVEMBER
.
Napoleon Dynamite (2004) Film4 3:05pm-4:55pm (1 hour 50 minutes)
A socially inept high-school student and his lonely unemployed brother find their eccentric home life thrown into upheaval when their meddling uncle comes to stay. The teenage oddball tries to make the best of his changing circumstances, while putting all his skills to the task of helping his new best friend win the class presidency. Comedy, starring Jon Heder, Efren Ramirez and Haylie Duff.
Wayne's World 2 (1993) 5* 4:05pm-6:00pm (1 hour 55 minutes)
Heavy metal fanatics Wayne and Garth try to stage a giant Woodstock-style rock festival, with a little help from a spaced-out British roadie and the ghost of Jim Morrison. But Wayne also has to stop his girlfriend leaving him for her slimy manager. Comedy sequel, starring Mike Myers, Dana Carvey, Ralph Brown, Kim Basinger, Tia Carrere and Christopher Walken.
Big (1988) Film4 4:55pm-7:00pm (2 hours 5 minutes)
A boy ridiculed for his size makes a wish on a fairground machine to become bigger – only to wake up as a 30-year-old man. Driven from his home by his terrified mother, the bewildered youngster trapped in a grown-up body makes his way to New York, where he rises high in the ranks of a toy manufacturing company and applies his youthful enthusiasm to the complexities of adult life. Comedy, starring Tom Hanks, Elizabeth Perkins and Robert Loggia.
Fun Fact: Tom Hanks was the first choice to play Josh Baskin but was unavailable due to scheduling conflicts with the films Dragnet (1987) and Punchline (1988). Robert De Niro was then offered the lead role, and was rejected because his salary demand ($6 million) was too high. Tom Hanks then became available and accepted the lead role for $2 million.
Antz (1998) Comedy Central 6:20pm-8:00pm (1 hour 40 minutes)
A neurotic worker ant passes himself off as a soldier to impress a princess. However, he provokes a jealously ambitious general with an accidental act of heroism – so he and his beloved decide to flee the brutal colony and go in search of the promised land of Insectopia. Animated comedy, with the voices of Woody Allen, Sharon Stone, Gene Hackman and Sylvester Stallone.
Bean (1997) ITV2 7:10pm-9:00pm (1 hour 50 minutes)
The hapless fool is employed as a security guard for a British art gallery and is sent to Los Angeles to bring back a famous painting. Unfortunately, he finds himself mistaken for a renowned art professor and invited to make an important presentation. Mel Smith's British comedy, starring Rowan Atkinson, Burt Reynolds, Peter MacNicol, John Mills, Peter Capaldi and June Brown.
Men in Black II (2002) E4 7:15pm-9:00pm (1 hour 45 minutes)
Agent J investigates the unauthorised landing of a spacecraft and discovers a malevolent alien disguised as a lingerie model is on the verge of destroying humanity. His only hope of stopping her diabolical plot is to restore the memory of his retired partner K – but his former mentor takes more than a little convincing. Sci-fi comedy sequel, directed by Barry Sonnenfeld, starring Will Smith, Tommy Lee Jones, Rosario Dawson, Lara Flynn Boyle, Johnny Knoxville, Rip Torn and Tony Shalhoub.
Austin Powers: International Man of Mystery (1997) Comedy Central 9:00pm-11:00pm (2 hours)
A velvet-clad, sex-crazed secret agent from the 1960s agrees to be put into a state of suspended animation after his arch-enemy escapes justice. Thirty years later he is defrosted to do battle with the power-mad villain again, but the mission proves nearly as daunting for him as getting to grips with 1990s social values. Spoof spy adventure, with Mike Myers, Elizabeth Hurley, Mimi Rogers, Michael York and Robert Wagner.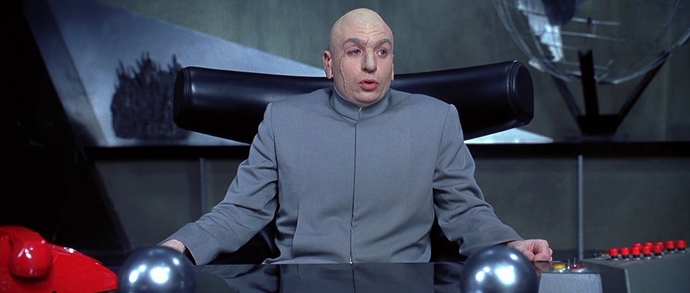 Independence Day (1996) Film4 9:00pm-11:45pm (2 hours 45 minutes)
A fleet of huge flying saucers launches a devastating and unprovoked attack on Earth. As survivors try to flee the seemingly unstoppable alien invaders, the courageous US president, an ace pilot and a computer genius come up with a plan to take the fight to the enemy and save the human race. Roland Emmerich's sci-fi adventure, starring Will Smith, Bill Pullman, Jeff Goldblum, Mary McDonnell, Randy Quaid, Robert Loggia and Harry Connick Jr.
Virus (1999) Syfy 10:50pm-12:50am (2 hours)
A salvage tug sailing perilously close to a typhoon discovers an abandoned Russian science vessel. Members of the crew board the ship, only to discover it has been taken over by an alien life form made of pure energy, which can create warriors out of organic and mechanical components and plans to eradicate the human race. Sci-fi thriller, starring Jamie Lee Curtis and Donald Sutherland.
Whatever you're up to  this weekend, make sure you have enough milk and not to walk too far in new shoes.
xoxo