You're gonna need a bigger drawer!
Just launched onto TruffleShuffle, we're super psyched for the arrival of Unique Vintage's fin-tastic new Jaws clothing collection!
Making a splash on the site, dive in and check out these stunning new designs!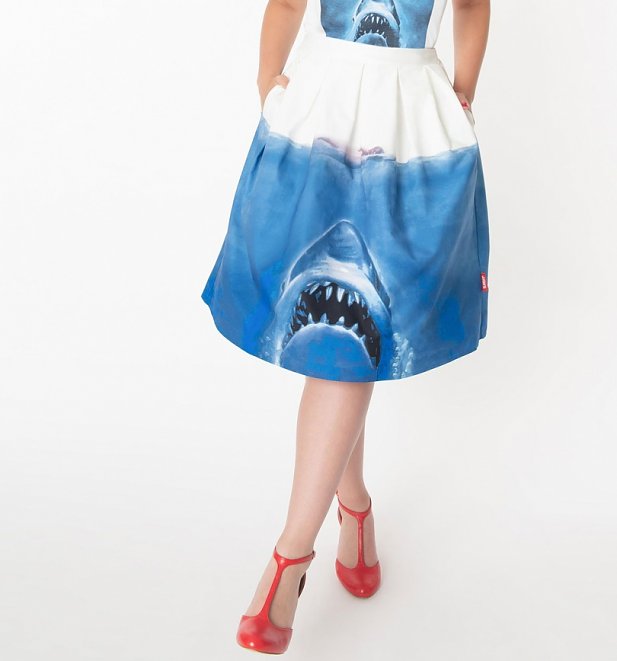 Featuring the hungry shark, Bruce, flashing his gnashers in the deep blue sea with his eyes on the prize, this retro-style Jaws Jayne Skirt from Unique Vintage features a printed scene design, inspired by the iconic movie poster artwork.

Looking for some-fin cool to wear this summer? This Jaws Poster T-Shirt from Unique Vintage is the perfect tribute to the cult 70s horror flick. Featuring the iconic movie poster artwork in a fab, vintage-style print, it can't be denied… this one is pretty jaw-some.
This Jaws Gigi Shirt Dress from Unique Vintage would be perfect for a day spent promenading at the seaside. Inspired by the Steven Spielberg classic horror movie, this all-over printed, sleeveless dress has a wonderful fifties-style silhouette and is so cool it's scary!
Show your brave, fearless side with this fun Jaws Amity Surf Club T-Shirt from Unique Vintage. Ain't no shark gonna stop you riding those waves!
There's more though! Rather than show off your scars to friends, show off your latest Jaws homewares with our amazing new Jaws Mugs, glasses and more!
For our complete collection of Unique Vintage UK clothing and Jaws merchandise, swim on over to TruffleShuffle.co.uk before they're snapped up!