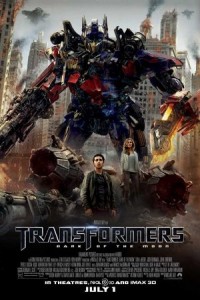 If you are anything like me then you are eagerly anticipating the release of the new transformers film which is due to be launched on 29th June.
Most of the cast from the first two films have been revived, the most notable absentee is Megan Fox after her character Mikaela was dropped for this film. English model Rosie Huntington-Whiteley has replaced Fox as Sam's love interest in the new film.
If the trailer is anything to go by then the film is going to be packed full of action and awesome special effects, if you have not seen the trailer then check it out now:

You may have spotted the flying men jumping out of the aircraft during the trailer and thought it looked impressive, well it might seem even more impressive when you learn that they actually did this for real in Chicago, truly amazing stunts:
Are you looking forward to Transformers 3? Do you think it will live up to the previous two? What are your thoughts on Fox being replaced by Huntington-Whiteley?
–Also, don't forget to get your Transformers t-shirts in time for the films release! We will be disappointed if you are not wearing one when you go to see the film!
Save