Howdy TruffleShufflers! Did you have a lovely weekend? If yours was anything like mine, then you had a good long browse through your movie collection to find some old favourites and spent a lot of time binge-watching that series that you've just got into. Am I right?
Speaking of old favourites, I've been trawling the deepest depths of Netflix to find their….


.
Top 10 Retro Movies and Shows!


.
So here goes, get ready for some serious nostalgia and hopefully, a little inspiration for something to to keep you smiling and fill the evenings now you're back at work or school or wherever again.


.
1.    The Addams Family (1991) Who could forget this macabre comedy classic? Wednesday and Pugsley fight to save their home from the evil developer, desperate to get her hands on the family fortune by manipulating an imposter to pose as the long-lost cousin Fester, but nobody counted on the imposter being the real deal!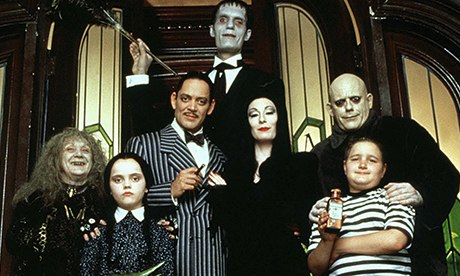 2.    Sister Act (1992) and Sister Act 2 (1993) I don't know about you, but both of these movies were in my Dad's VHS collection back in the day and watched them both until the tape got chewed and snapped. A pair of classic comedies in which Delores (Whoopi Goldberg) goes into witness protection as a Nun after seeing her gangster boyfriend commit murder. Her talents for choreography lead her to form a choir, firstly with the nuns and secondly with the unruly kids that go to the Catholic school, ultimately saving the church and school respectively. Yes it's basically the same movie twice, but you can't have too much of a good thing!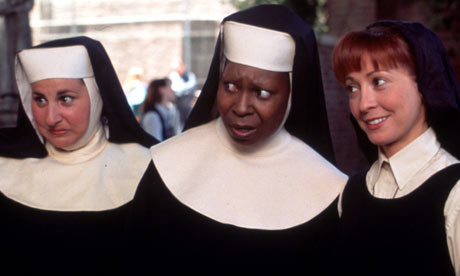 3.    Who Framed Roger Rabbit (1988) This twisty toon adventure is a magnificent technological display of real-time action and cartoon madness. Made in a time long before Pixar had developed their cutting edge animation software, every animated frame in this movie was hand drawn over the live-action cells and painstakingly coloured in post production. Imagine that! Bill Murray was in the running for Bob Hoskins' role, but couldn't get back to the director in time. He reportedly screamed aloud at a dinner party when he realised he had missed his shot. As you would!
4.    Speaking of Bill Murray, it just wouldn't be a retro movie rundown without giving Ghostbusters (1984) a mention. With the third movie due to be shot next year (Yes that's right, there's going to be a Ghostbusters 3!) it's time to revisit the original and laugh your socks off all over again. Also, give Stripes (1981) a go, Bill Murray and the late, great Harold Ramis team up as infantrymen that join the army during the cold war, imagining that basic training will be much like a health spa to get them back into shape, they were wrong…
5.    White Men Can't Jump (1992) is a brilliant buddy movie of sorts, filled with gritty dialogue and great basketball action scenes. As Woody Harrelson and Wesley Snipes team up to hustle local ball-players their characters grow and grow through hatred, suspicion and greed to learn to love each other and ultimately win the grand final as equals. If you can ignore Rosie Perez's ridiculous voice, you can definitely enjoy this wonderful, heartfelt lycra-clad 90's classic. Random Trivia: Woody never did make a real slam dunk, the hoop at the end is actually nine-and-a-half feet high, not the regulation ten feet. (But we'll let him off!)
6.    Party on dudes! Its Wayne's World! (1992) Surely this one needs no introduction, let's just sit and remember everyone's favourite scene…
7.    Shut up! It's, like, so totally Clueless! (1995) This wonderfully satiric adaptation of Jane Austen's Emma, in which the lead can't help matchmaking everyone around her is a laugh-a-minute mockery of all things Beverley Hills. Filled with homage, irony and subtlety it's no wonder this brilliantly executed teen flick is now recognised as one of the best films of the era. Random Trivia: though Paul Rudd's character is cast as being several years older than Cher and her friends, Stacey Dash who plays Dionne is actually three years older than him!
8.    Enter the danger zone! That's right, in at number 8, it's Top Gun (1986) With Tom Cruise at his steely finest, portraying the hotshot pilot, Maverick, opposite the chisel-jawed Val Kilmer, Iceman. Fighting prejudice and his own hubris, Maverick must prove that he is worthy of the title, Top Gun. Random Trivia: The real top gun school in California make staff pay a $5 fine every time they quote the movie.
9.    Here's another show that needs no introduction, unless you lived in a cave throughout the late 90s, you'll most likely be aware of a funny little Japanese show that took the world by storm, Pokémon! (1997) I've no doubt that anyone reading this will almost certainly have tried to catch 'em all at some point, done a shady deal for a shiny Charizard card and spent all their pocket money to win a cuddly Pikachu at the fair. Am I right? The first season, the Indigo League is now on Netflix and believe me, it's just as good as it ever was.
10.    Whilst we're on awesome kids cartoons, they've also just added a load of Cartoon Network shows including Johnny Bravo, Courage the Cowardly Dog  and Dexter's Laboratory. "Omelette du fromage!!!" Need I say more?
| | |
| --- | --- |
| | |
So! We have come to the end of the road. What do you think? Did I miss anything? Have I inspired anyone to watch something new, or something they haven't seen in ages? I hope so.
I hope you all have a great week and remember to like and share and all that good stuff. Also, pop over to the website to buy some awesome Movie T-Shirts or Cartoon T-Shirts inspired by many of the shows and flicks mentioned above. (But not all of them, sorry about that!)
xoxo