GREAT SCOTT! The day that ALL Back to the Future fans have been waiting for is finally here! Ever since Marty and Doc Brown set the dials in the DeLorean to OCT 21 2015 in Back to the Future II and sped off into the unknown, we dreamt about what the world would be like so far in the future, a whole 26 years into the unknown. Would it be like the film? Would it be weirder or just the same? Only time itself would tell….
Well the future is officially here! We might not have quite the same taste in fashion that the film suggests, well…..most of us. And we sure don't have hoverboards and flying cars just yet (come on science people!) but thankfully LOADS of great BTTF goodies have made it… check out some of our exclusive designs below!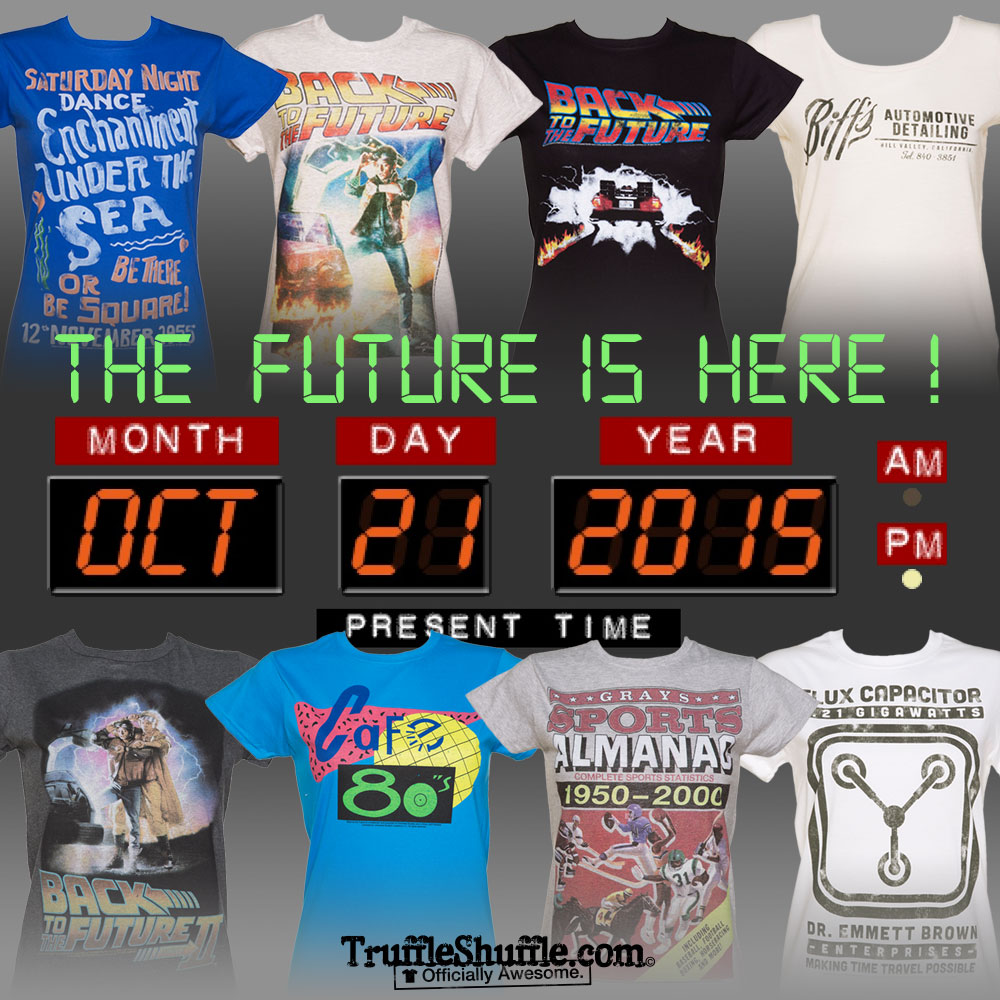 To celebrate this momentous occasion in 80's movie history, we're celebrating the only way we know how! Rocking our favourite Back The The Future T-Shirts with double ties of course, rooting for the Cubs and launching a good old fashioned giveaway!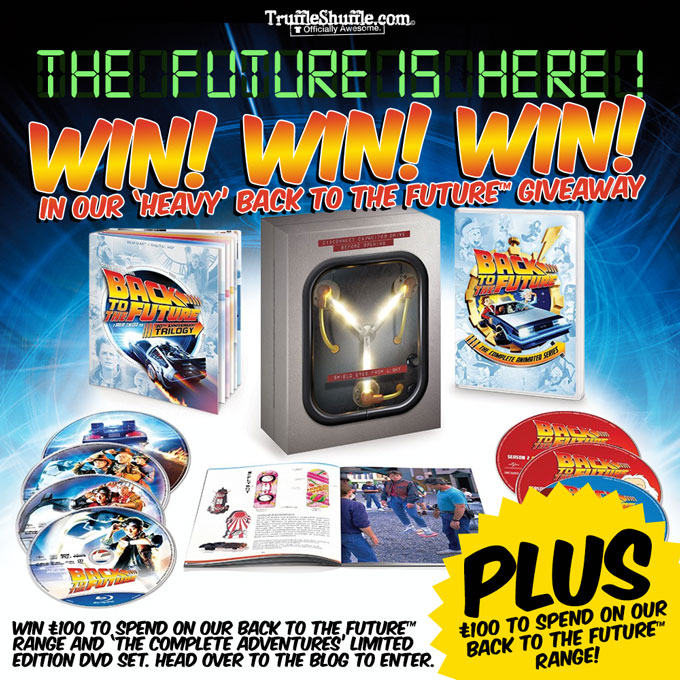 So what's up for grabs?
Well! As a treat for all you die hard fans out there, we're giving you guys and gals the chance to get your hands on a limited edition Blu Ray of Back to the Future: The Complete Adventures. Yep all three classic films, the complete animated series (26 Episodes), a bonus disc featuring over 2 hours of content , and a visual history 64-page book complete with collectible light-up flux capacitor packaging! All shipped over especially from the US of A. WOW!
But wait there's more! We're also offering our lucky winner a cool £100 to spend on on Back to the Future merchandise on our site so you can get your hands on a whole bunch of goodies to show your appreciation for the movie classic.
How to enter…
To keep things as easy, fair and accessible as possible, we're running our competition through a nifty system called Gleam which will allow you to enter a number of times and in a number of different ways via Twitter, our blog, Facebook, Pinterest, Instragram and more. The more ways you enter, the more chances you have of winning – think of it like tickets in a hat. Simple!
Back To the Future Competition!

How Long Do I Have?
The competition will close at 11:59am on Friday 23rd of October. We will grab a winner from the system and announce this shortly after so keep your eyes peeled.
How will you pick a winner?
Totally at random! Once the competition closes, the Gleam system will dive head-first into all the entries and pick out one at random to keep things totally fair.
If you have any questions or problems at all, please get in touch with us on competitons@truffleshuffle.co.uk and we will be glad to help.
Good luck everyone and HAPPY BACK TO THE FUTURE DAY!
Ts&Cs
Only one winner will be chosen at random.
Only open to UK residents
There will be no cash alternative to prizes offered.
If we do not hear back from the winner after 1 week, another will be chosen at random and contacted.
TruffleShuffle.co.uk reserve the right to close/cancel the competition at any time.
This Blu Ray/DVD will be released on October 20th 2015 in the US and can only be sent out to the winner once it has arrived to us in the UK.
Winner decision is final.