Sweet marmalade one toast! It's only the weekend back again!
So like one of the hottest crime scene investigators in town, we find ourselves facing another classic case of retro movie mystery. We'll glove up and start eagerly digging for clues as we slowly uncover all the traces of cinematic greatness that the weekend has to offer. We'll bag up only the most important evidence before taking it back to the lab to further uncover the hidden truths that may lie within and capture them forever onto celluloid wonder.
Have a happy retro weekend!
SATURDAY 22nd August
.
Ivanhoe (1982) Movie Mix 9:00am-11:50am (2 hours 50 minutes)
A noble 12th-century knight returns home to England after fighting in the Crusades alongside Richard the Lionheart, only to find the country under the domination of the king's tyrannical brother. He joins a rebellion to restore rule of the kingdom to the rightful monarch. Medieval adventure based on Walter Scott's novel, starring Anthony Andrews, James Mason and Sam Neill.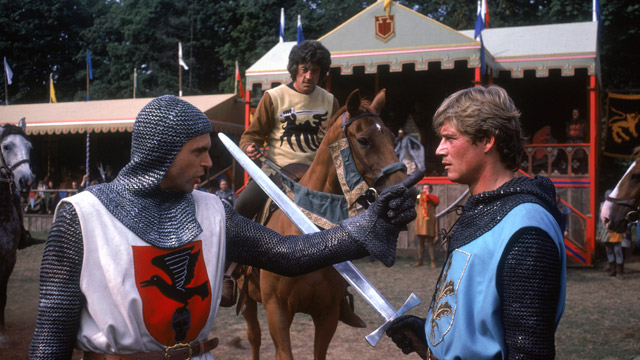 Flash Gordon (1980) More4 10:45am-1:00pm (2 hours 15 minutes)
American football quarterback Flash Gordon and journalist Dale Arden find themselves aboard a rocket ship designed by scientist Dr Zarkov, who intends to travel across space to locate the source of recent natural disasters. The three arrive on the planet Mongo, where they soon learn that the attacks are the responsibility of evil emperor Ming the Merciless, who is planning to destroy the Earth. Sci-fi comic-strip adventure, with Sam J Jones, Max von Sydow, Brian Blessed, Melody Anderson, Topol, Timothy Dalton, Ornella Muti, Peter Wyngarde and Mariangela Melato.
| | |
| --- | --- |
| | |
Spartacus (1960) ITV4 2:10pm-6:00pm (3 hours 50 minutes)
A slave trained to fight as a gladiator turns against his masters and leads an army of rebels in a fight for freedom against the Roman state. But as the rebellion gathers momentum, two senators do all they can to exploit the uprising for their own political ends. Stanley Kubrick's Oscar-winning epic, with Kirk Douglas, Tony Curtis, Laurence Olivier, Jean Simmons, Charles Laughton and Peter Ustinov.
Fun Fact: Thirty years after filming, Jean Simmons met the baby she held in this film, who now works in the film industry as a stuntwoman.
Indiana Jones and the Kingdom of the Crystal Skull (2008) BBC1 London 6:20pm-8:15pm (1 hour 55 minutes)
The globe-trotting archaeologist teams up with a rebellious teenager who draws him into a search in the Amazon jungle for a mysterious artefact of untold power. But their quest is hindered by Soviet agents, who also want the fabled object for an altogether more sinister purpose. Action adventure sequel, updating the series to a 1950s Cold War setting, starring Harrison Ford, Cate Blanchett, Shia LaBeouf, Ray Winstone and John Hurt.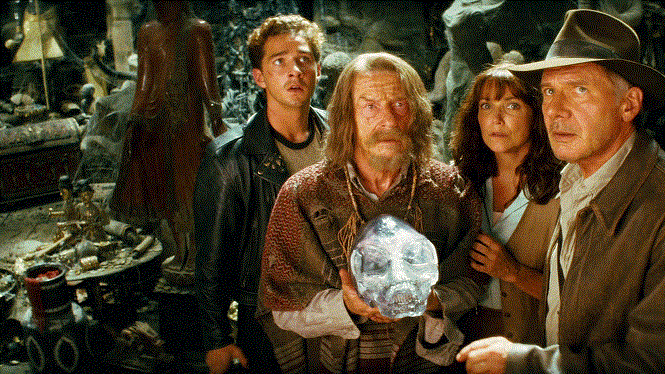 The Matrix Revolutions (2003) ITV2 11:40pm-2:05am (2 hours 25 minutes)
As the survivors of the human race make their last stand against the machines, freedom fighters Neo and Trinity undertake a desperate journey into the heart of the enemy stronghold seeking a way to end the war, while the rogue computer program Smith sets about remaking the virtual world of the Matrix in his own image. Conclusion of the sci-fi trilogy, starring Keanu Reeves, Carrie-Anne Moss, Laurence Fishburne and Hugo Weaving.
SUNDAY 23rd August
.
Smokey and the Bandit II (1980) ITV London 1:40pm-3:35pm (1 hour 55 minutes)
The maverick haulier must overcome a crisis of confidence when he and his friends are hired to transport a pregnant elephant to Texas, a mammoth task that proves far from easy, especially with their old enemy in hot pursuit. Road comedy, with Burt Reynolds, Jackie Gleason, Jerry Reed, Dom DeLuise and Sally Field.
Street Fighter (1994) 5* 2:05pm-4:10pm (2 hours 5 minutes)
A military officer goes in search of a power-mad general who is holding several hostages in a secret location. He soon finds he is not the only one on the maniac's trail, and joins forced with a mismatched band of martial artists to save the captives. Action adventure based on the video game, starring Jean-Claude Van Damme, Raul Julia, Kylie Minogue and Ming-Na Wen.
Homeward Bound II: Lost in San Francisco (1996) ITV2 2:20pm-4:10pm (1 hour 50 minutes)
Two dogs and a cat are left to fend for themselves on the streets of San Francisco when their owners fly off on holiday and accidentally leave them behind. As they join a tough group of strays, they must avoid falling into the clutches of the sinister dog catchers. Adventure sequel, with the voices of Michael J Fox, Sally Field and Ralph Waite.
Turner & Hooch (1989) E4 4:30pm-6:35pm (2 hours 5 minutes)
A Californian detective investigating the murder of a local man by drug smugglers has only one witness to help him solve the case – the large, smelly dog that belonged to the victim, which is about to turn the detective's well-ordered existence into chaos. Family comedy, starring Tom Hanks, Mare Winningham and Craig T Nelson.
Hulk (2003) ITV2 6:15pm-9:00pm (2 hours 45 minutes)
Scientist Dr Bruce Banner turns into the rampaging green Hulk after exposure to a huge dose of gamma radiation, prompting the military to embark on a no-holds-barred mission to destroy the monster. Meanwhile, Banner's unstable father resurfaces, holding the secret to his transformation. Comic-strip adventure from director Ang Lee, starring Eric Bana, Jennifer Connelly, Sam Elliott and Nick Nolte.
Mercury Rising (1998) ITV4 9:00pm-11:15pm (2 hours 15 minutes)
A top-secret government agency has developed a seemingly unbreakable code – only for an autistic boy to crack it in an instant. Assassins succeed in gunning down his parents, but a maverick FBI agent investigating their deaths finds the child hiding in a closet, and resolves to shield him from the hitmen on his trail. Thriller, starring Bruce Willis, Alec Baldwin and Miko Hughes.
Fight Club (1999) Channel 5 11:15pm-1:50am (2 hours 35 minutes)
A disillusioned office worker grows weary of his humdrum existence, but after meeting the mysterious Tyler Durden he finds fulfilment in establishing a club where similarly frustrated men come to vent their anger in bouts of bare-knuckle fighting. Satirical drama, directed by David Fincher, starring Edward Norton, Brad Pitt, Helena Bonham Carter, Meat Loaf and Jared Leto.
Fun Fact: In the short scene when Brad Pitt and Edward Norton are drunk and hitting golf balls, they really are drunk, and the golf balls are sailing directly into the side of the catering truck.
Daylight (1996) ITV4 11:15pm-1:30am (2 hours 15 minutes)
A devastating explosion in the New Jersey Tunnel causes a horrific pile-up, trapping a group of motorists underground. A former emergency worker witnesses the blast and heads in to guide the handful of survivors to safety before the waters of the Hudson river above them break through and flood the tunnel. Disaster movie, starring Sylvester Stallone, Amy Brenneman, Viggo Mortensen, Dan Hedaya and Claire Bloom.
Whatever you're up to this weekend, phone ahead if you need to and always bring some back up layers.
xoxo