School holidays were supposed to be about lie-ins and staying in bed until lunchtime, but this dream was shattered in 1985 when the alarm clock had to be set for 8:45am in order to hit the sofa for the 8:50am start of Wacaday.
Oringinally co-presenting the Saturday morning show Wide Awake Club, Wacaday gave Timmy Mallett the chance to shine in the zaniest way possible, and within days of the first show being aired (which coincidentally was the same week Timmy turned 30), us 80s kids were hooked on this utterly brilliant show!
25 years after those good ole Wac-a-days, Timmy remains a legendary character. His thirty year career started out as a radio presenter (in charge of a team including Chris Evans and Brian Cox) before presenting various TV shows, singing a number one hit single, appearing on I'm A Celebrity Get Me Out Of Here!, performing in a couple of pantos and more recently enjoying the limelight of being a very successful artist.
We have the pleasure of working with Timmy on our range of Mallett's Mallet T-Shirts and thought you TruffleShufflers might want to know the same things we've wanted to know all these years…
TS: So Timmy, we love your fabulously daring sense of fashion in particular those crazy glasses you wear! Which are your all-time favourites?
TM: I have squillions of pairs of spex. Lots were made specially for my TV shows and hit records! The Eiffel Tower, the mad skier, the Olympic rings, The Wacaday spex and the big Mallett's Mallet pair.  I have the pink cadillac spex and the Itsy Bitsy spex with palm trees! Wild, and  I love 'em all. I have a pair in my studio at the moment that I spent the morning painting. I've attached toys and buttons to them and they will be on my face at my next show!

TS: There were a lot of crazy moments on Wacaday! What is your funniest memory of the show?
TM: I loved it when we had the occasional guest star on the show – Jason and Kylie playing Mallett's Mallet was fun. It was always great to go on travels around the World with the Mallet and see the way kids everywhere enjoyed the fun of the show.
I loved the way Magic the cockatiel would fly around the studio and land on the the camera with his tail in shot. The cameramen would get nervous in case he left a little present on their heads!

TS: We love your cute companion, Pinky Punky, but whatever became of him? Are you still in touch? What is he doing now? Has he found love?
TM: Pinky Punky – the little Mallet who popped up to shout out the address – "Wacaday….blah blah Blah, London NW1 8TQ!!!!!!" and "Mr Mallett, I'm so excited can I got to the toilet!"  He was our little audience, and often the props guy would use a water pistol to wee all over the place!  Pinky Punky has a girl friend – Hanky Panky and the good news is you can get your very own Pinky Punky Mallet now and keep him to remind you of the happiest days of your life!  You're never too old to be a kid again!

TS: Who's your most famous fan?
TM: Mrs Thatcher  wanted to be hit on the head by the Mallet, Tony Blair's family came to panto so they could look at each other and go BLAAAH; Princess Diana loved watching Wacaday with Princes William and Harry; Gary Barlow invited me to sing Itsy Bitsy at his wedding anniversary – Dawn was one of my itsy bitsy girls; and Simon Cowell used to plug records to our show.  Shall I carry on?
TS: No, Timmy, that's enough to put a smile on our faces for days… and we now know what Prince Harry was doing in that infamous picture on the balcony at Buckingham Palace, all together now… BLEEEEEUUUUGHHHHHH!

Huge thanks to Timmy for taking the time to answer our burning questions. While writing this blog post, I've been fascinated re-reading Timmy's website – in particular the history of Wacaday – and would recommend anyone to grab a cuppa, sit down for half an hour and soak up some truly awesome stories!
This blog post was brought to you by TruffleShuffle.com, the home of Timmy Mallett T-Shirts, Wacaday T-Shirts and Pinky Punky Mallett's Mallets!

WIN Signed Timmy Mallet Pinky Punky AND a Timmy T-Shirt!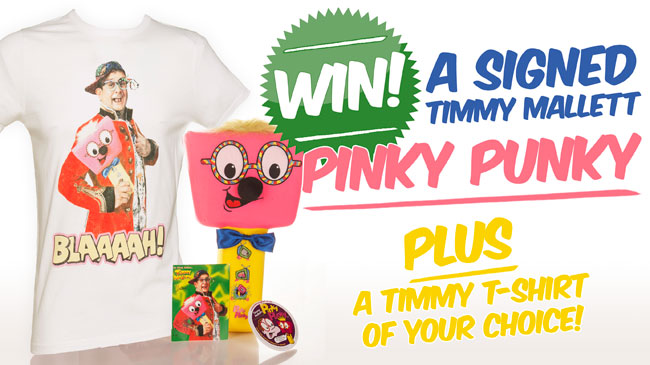 To enter, simply answer this question with a comment below…
Q) If you could play a game of Malletts Mallet with any retro character or personality, who wold it be and WHY?

Closes 2pm on Monday (25th) and we'll pick our favourite as our lucky winner shortly after.
Good luck!

xoxo