Some pretty big news today at Truffle Towers! We've teamed up with one of our most favourite suppler and all round t-shirt gurus Hero and Cape to create some simply amazing new designs just for you guys!

Well….the wait is over and they're now in stock! We've been working hard with the amazing Hero & Cape team to bring you some of the the coolest retro inspired designs that perfectly capture the style of the times with a bang up-to-date look to boot.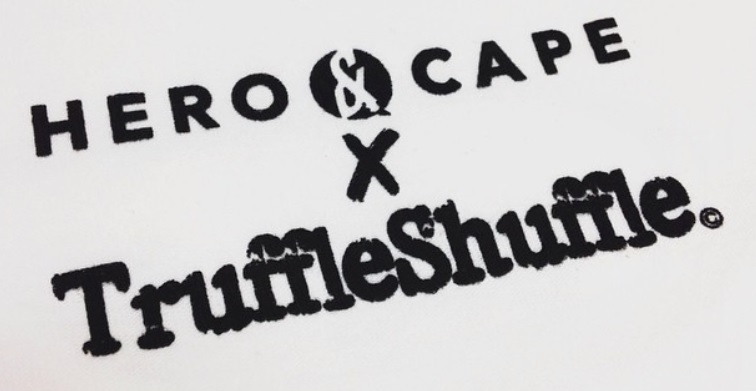 All Hero and Cape clothing is lovingly hand-illustrated and screen printed by hand in their studio right here in the UK. Each print is unique and is packed with its very own style and finish.

Take a look at our latest designs including some classic 90s influences that are flooding the high street….

'So tell me what you want, what you really, really want I wanna, I wanna, I wanna, I wanna, I wanna really Really, really wanna Zig-a-zig-ah….'
It's 18 years since five ladies known as The Spice Girls unleashed their debut single Wannabe on the public and changed the face of Girl Power forever. Inspired by the fab 5, show your appreciation with this quirky unisex vest which features a Zig-A-Zig-Ah print surrounded by hand drawn doodles.
| | |
| --- | --- |
| | |
Channel Eddy and Patsy with this exclusive Ab Fab inspired design!
Featuring an Ab Fab slogan set against a background of cigarettes, champagne glasses (bolly of course!) and lipsticks, it's a must have sweetie darling….
| | |
| --- | --- |
| | |
Show your appreciation for Kel's favourite beverage with this Kenan and Kel inspired design.

Featuring an all over print and the slogan Who Loves Orange Soda? It's the perfect way to celebrate the 90's goodness that was Kenan and Kel.
An essential part of the soundtrack of life for any respectable 90's kid, show your appreciation for the sound of Will Smith and DJ Jazzy Jeff with this exclusive Boom Shake The Room inspired design!

Featuring a print of the classic song lyrics surrounded by blue and purple doodles, dig out your Bluebolt jeans, rounded shades and shove on a pair of Buffalo shoes and you'll be good to go!
Let's face it, Salem Saberhagen was definitely the best thing to come out of Sabrina The Teenage Witch!
A witch trapped in a cats body, he had some of the best one liners in history and this awesome tee is the perfect way to show your appreciation.

Featuring a cat print complete with one of his best quips, it also reads 'I urge you to accept me as your ruler.'
So there you have them folks! What do you think? Any favourites in the bunch? Shoot on over to TruffleShuffle.com/Hero&Cape now to pick up one of these fab tees from only £19.99!

See you there!

xoxo