What a month! Last week we celebrate the 20th anniversary of one of our very favourite Films Forrest Gump, now it's the turn of one of the biggest indie films ever to hot the big 2-0 and say goodbye to its teen years!


.
What a classic! Pulp Fiction first premiered in May 1994 at the Cannes Film Festival where it picked up a Palme d'Or, the festival's top prize, this instant hit later landed in the UK's cinema screens today (10th September) the same year.

Quickly making a name for itself and changing the way people look and even make movies, this cult classic beat the odds when it outsold its main rival at the time which was Sylvester Stallone's The Specialist which was showing in twice as many screens! Unsurprisingly, this film went on to become the top indie film to gross over $100 million, not bad seeing as it cost $8.5 million to make and a further $10 million to promote! Wowzers!

To help celebrate, along with having our fab range of Pulp Fiction T-Shirts and Accessories, we thought we would pop together a few of our favourite moments from this iconic flick with some cool facts you might not have known.
Dancing at Jackrabbit Slim's…
Now, being told to take your boss's wife out for a night to do whatever she likes is a very odd and stressful situation. If she says she wants to dance…you dance! so they do 🙂 Even people who don't like this film will remember this scene and laugh. True story.
Royale with Cheese…
"You know what they call a Quarter Pounder with Cheese in Paris? …. They call it a Royale with cheese."
*Shudder* The Needle…
Of all the scenes and violence this film is known for, this scene really makes us cringe! A big moment in the film, this is when Mia (the bosses wife) 'get's herself in some trouble' after a heavy session. They bring her back to life with a huuuuge needle into her heart full of adrenaline. Scary people!
Captain Koons' Watch…
One of the odd bits of dialoge in this who film, the scenes sees movie legend Christopher Walken tell the story of Butches great-grandfather's watch and where is has spent 7 years of it's life. Not something we would want to wear!
"I just shot Marvin in the face!"…
Possibly one of the most famous scenes in the whole film! After the initial action scene Jules and Vincent take the last survivor named Marvin with them. After witnessing a strange event that Jules interprets as divine intervention, they discuss it in the car. Vincent turns back to ask Marvin what he thinks about the events, and not realizing he still has a loaded gun in his hand, accidentally pulls the trigger and well…..it doesn't end well for Marvin.
Choosing his weapon…
Not a huuuge moment in the film but one that stands out for us. After they have been captured, after Butch frees himself from their attackers, he finds himself in the situation where he can run free, or go back and save the man who has just tried to kill him moments before. Before he can take them on he must arm himself and finds a whole host of options, analysing each one at a time…
Fun Fact! The Gimp is a TV writer named Stephen Hibbert. He wrote for Animaniacs, Darkwing Duck and other stuff.


.
Cafe Robbery…
LOVE LOVE LOVE this scene! Another example of just how cool and amazing Jules (Samuel L. Jackson) is. After a couple attempt to rob a cafe and in turn take the briefcase that has caused Vince and Jules so much trouble collecting, a standoff ensues which leaves Jules leading the situation like a total boss. Legend.
Ezekiel 25:17….
"The path of the righteous man is beset on all sides by the inequities of the selfish and the tyranny of evil men. Blessed is he who, in the name of charity and good will, shepherds the weak through the valley of the darkness, for he is truly his brother's keeper and the finder of lost children. And I will strike down upon thee with great vengeance and furious anger those who attempt to poison and destroy My brothers. And you will know I am the Lord when I lay My vengeance upon you."
So there you have them folks, just a little collection of some of our favourite and most iconic moments from this cult film.

If you're as big a fan of this Tarantino classic as we are, you love our amazing range of official movie t-shirts, vests, wallets, gifts and more! Take a look at our entire Pulp Fiction range by clicking below….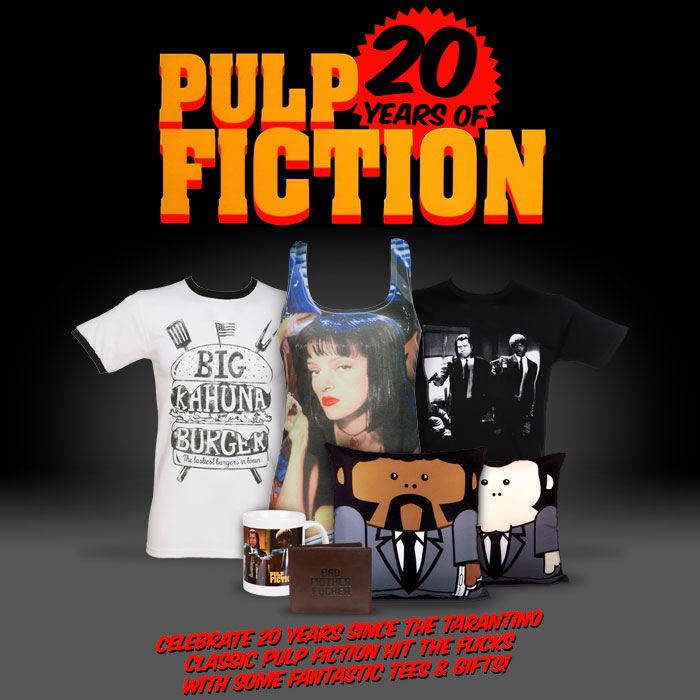 So what are your favourite moments from this hit flick?
xoxo