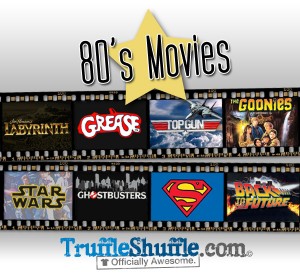 Calling all retro movie aficionados…………
Here at TruffleShuffle, movies are as important to us as they are to you and if, like us, you grew up on staple diet of Star Wars, Back to the Future, The Lost Boys and of course The Goonies to name but a few, our brand new retro movie rundown is sure to appeal.
Yes folks, every Friday – we'll be giving you the heads up as to what retro treats you can expect to find on your telly box this coming weekend.
So whether you love old school movies like us or are just looking for something to pass the time and need some inspiration, our retro movie run down is just the ticket.
ENJOY and let us know what you end up watching!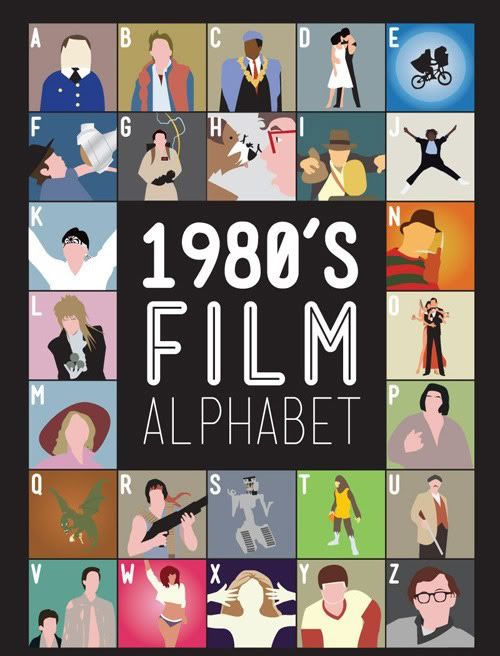 FRIDAY 13th APRIL
Rocky II (1979) ITV4 9:00pm
Philadelphia boxer Rocky Balboa quits the ring to marry his sweetheart and become a father. However, times prove hard and money is tight, so when Balboa is offered another shot at Apollo Creed's heavyweight title, the fighter is tempted out of retirement. Drama sequel, starring Sylvester Stallone, Talia Shire, Carl Weathers, Burt Young and Burgess Meredith.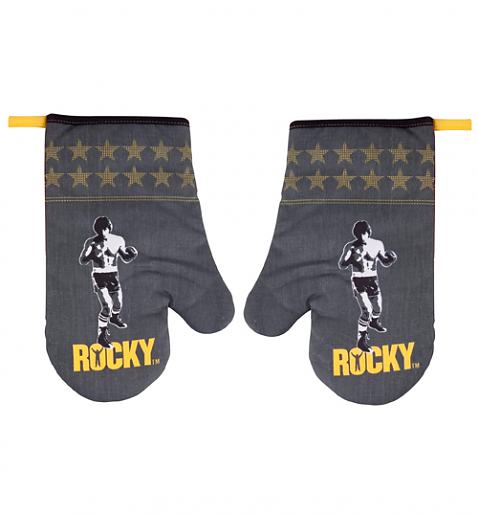 SATURDAY 14th APRIL
Grease (1978) Film4 12:55pm-3:10pm
Rebellious American teenager Danny falls for innocent Australian girl Sandy during the summer holidays, but when he later finds out she is a new student at his school, he risks losing her love by trying to act cool in front of his friends. Romantic musical set in the 1950s, starring John Travolta, Olivia Newton-John, Stockard Channing, Jeff Conaway, Didi Conn and Barry Pearl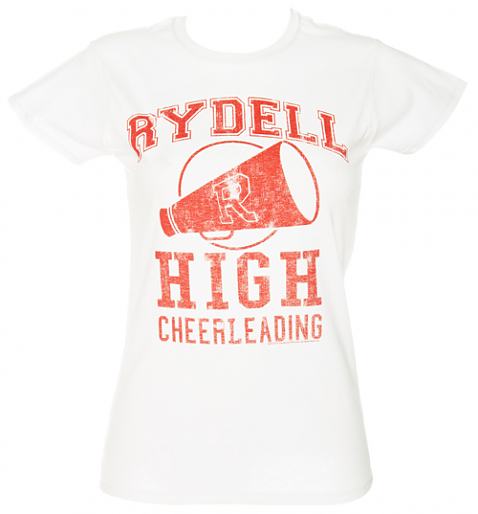 Jurrasic Park 5.30pm ITV2
Huge advancements in scientific technology have been able to create an island full of living dinosaurs. John Hammond has invited four individuals, plus his two grandchildren to join him at Jurassic Park. But will everything go to plan? Especially when one of the parks own workers attempt to steal the dinosaurs embryos, and have to shut down all the electricity in the process.
It's now a race for survival with everyone located all over the island.
Rocky III 9.00pm ITV4
Philadelphia brawler Rocky Balboa gets a shot at the world heavyweight title when current champion Apollo Creed decides to give an unknown boxer a chance in celebration of America's bicentennial. Oscar-winning drama, starring Sylvester Stallone, Burgess Meredith, Talia Shire, Burt Young and Carl Weathers.
Transformers 9.15pm E4
As sci-fi action blockbusters go, they don't come much bigger than Transformers. Maybe it's because of the subject matter: it's based on a toy line from the 1980s, concerning giant robots from outer space engaged in a civil war that pits the heroic Autobots against the evil Decepticons. They have the ability to disguise themselves as vehicles and other mechanical objects, transforming back into robots when it's time to stomp each other senseless. As a premise, it's rather silly. But it's also very simple, and that's why it works.
The heroes are truly heroic: the noble and powerful Autobot leader Optimus Prime is one of the most iconic characters of the 1980s, and getting the original voice actor (Peter Cullen) to give him life was a stroke of genius. The villains, meanwhile, are just plain evil: Decepticon leader Megatron (voiced by Hugo Weaving) is motivated by absolute power, and his soldiers are not above a bit of wanton destruction to achieve their goals. Mix in a bit of mysticism in the form of the Allspark, the source of life for all Transformers, and the result is pure cinematic magic.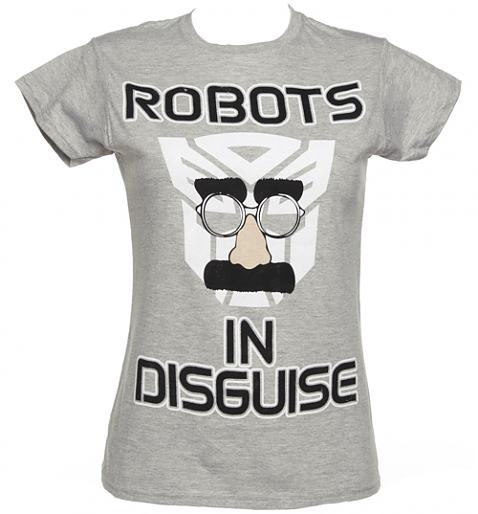 Big 6.55pm Film 4
A perfect marriage of novel but incisive writing, acting and direction, Big is the story of a 12-year-old boy who wishes he were older, and wakes up one morning as a 30-year-old man (Tom Hanks). The script by Gary Ross and Anne Spielberg finds some unexpected ways of attacking obvious issues of sex, work, and childhood friendships, and in all of these things the accent is on classy humour and great sensitivity. Hanks is remarkable in the lead, at times hilarious (reacting to caviar just as a 12-year-old would) and at others deeply tender. Fun for all the family!
The A-Team 8.00pm Sky Movies Crime and Thriller
They're armed, dangerous…and downright crazy. Buckle up for an adrenaline-fuelled, action-packed thrill-ride starring Liam Neeson, Bradley Cooper, Quinton "Rampage" Jackson and Sharlto Copley. Convicted by a military court for a crime they didn't commit, a daring team of former special forces soldiers must utilize their unique talents to break out of prison and tackle their toughest mission yet. It's going to take guts, split-second timing and an arsenal of explosive weapons–this is a job for The A-Team.
SUNDAY 15th APRIL

Toy Story 2 4.00pm Channel 5
John Lasseter and his gang of high-tech creators at Pixar create another entertainment for the ages. Like the handful of other great movie sequels, Toy Story 2 comments on why the first one was so wonderful while finding a fresh angle worthy of a new film. The craze of toy collecting becomes the focus here, as we find out Woody (voiced by Tom Hanks) is not only a beloved toy to Andy but also a rare doll from a popular 60s children's show. When a greedy collector takes Woody, Buzz Lightyear (Tim Allen) launches a rescue mission with Andy's other toys. To say more would be a crime because this is one of the most creative and smile-inducing films since, well, Toy Story. Although the toys look the same as in the 1994 feature, Pixar shows how much technology has advanced: the human characters look more human, backgrounds are superior, and two action sequences that book-end the film are dazzling. A hoot for kids and adults alike.
Uncle Buck 4.00pm Sky Living
John Candy has one of his finest opportunities in this film by John Hughes (The Breakfast Club) about a perpetual screw-up (Candy) who gets his act together enough to watch over his brother's kids effectively. Uncle Buck has a reputation for being unreliable and a bit of a house wrecker. It is therefore with reluctance, his sister-in-law agrees to leave Buck looking after the kids (two harmless youngsters and a rebelious teenager) when she visits her sick father. Cue laughs aplenty with a few persuasively touching, sentimental moments thrown in for good measure.
Crocadile Dundee 1pm Film 4
This 1986 comedy out of Australia is so old-fashioned in its romantic charm that one can't help but wonder what it would have looked like with Clark Gable and Carole Lombard in the leads. On the other hand, it's hard to imagine anyone besides Paul Hogan as the title character, a laid-back Aussie tracker who shows an American reporter (Linda Kozlowski) around bush country, then accompanies her to New York City. Sure, Hollywood has done the fish-out-of-water scenario to death in the last 20 years, and while this film has sufficient sport with the gimmick, it is largely driven by the principal characters and their developing love affair. A great, goofy, screwball comedy!
Rocky IV 10.00pm ITV 4
The Italian Stallion steps back into the ring for a Cold War clash against seemingly invincible Russian boxer Ivan Drago – but has to fight the bout in his opponent's native country. Drama sequel, starring Sylvester Stallone, Dolph Lundgren, Talia Shire, Carl Weathers, Brigitte Nielsen and Burt Young.
Rocky V 12.00am ITV 4
The former champion begins training promising youngster Tommy Gunn – only to see his protege turn against him, forcing him back into a fight that could end in tragedy. Boxing drama sequel, starring Sylvester Stallone, Talia Shire and real-life heavyweight boxer Tommy Morrison.
Happy watching folks and don't forget to join us next week for more retro movie magic xoxo