Super exciting news at Truffle Towers this week!  We have been in touch with the king of mullets from the wonderfully wacky 90's kids show Fun House, none other than the phenomenal Pat Sharp!
We've got so many fond memories from watching Fun House when we were younger, it was always my dream to go on the show.  I would have loved to run laps on the go karts, speed down the Skelter Belter, traverse the Danger Net, target the trash cans and of course meet the legendary Pat Sharp!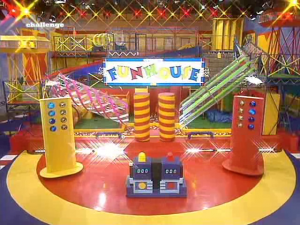 We are very proud to announce that we are going to be working on a few tees dedicated to Pat and his admirable and awe-inspiring blonde mullet.  We are already busy cooking up some great ideas and slogans, but were also wondering if there was anything that you would love to see on a Pat Sharp T-Shirt.  What are your fondest memories of Pat?  Let us know, we would love to hear from you!