"The film that is the Jungle V.I.P."
| | |
| --- | --- |
| ACTORS | Bill Murray, Neel Sethi, Ben Kingsley, Idris Elba, Lupita Nyong'o, Scarlett Johansson, Christopher Walken, Giancarlo Esposito |
| DIRECTOR | Jon Favreau |
| GENRE | Family, Adventure, Fantasy |
| SYNOPSIS | The story of Mowgli, a child raised in the jungle, and his adventures alongside friends Baloo the bear and Bagheera the panther, who live in fear of the tiger Shere Khan |
| RELEASE DATE | 15th April 2016 |
| DURATION | 106 mins |
| RATING | PG |
He's Back!
I'm back again! Okay so I might be a bit of a film addict……..but there's nothing wrong with that right????
The only thing that may have been a little bit over the top was wearing some of our Jungle Book merchandise to the cinema!?!?!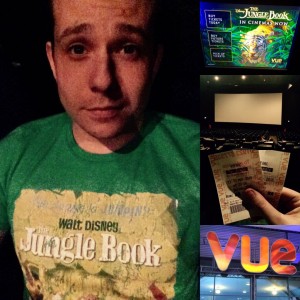 I have also been slow at writing blog posts lately (because we have a surprise to reveal in a few weeks time) oh and of course I love Iain's amazing baking, so much so I gave him top marks.
The Film!
So back to the film, Jungle Book has been out for a few weeks now and I was lucky enough to see it on the day of release.
One of the first things I have to say is that you should forget about your worries when you go to see this movie, it has all the markings of a future classic, and will leave you wanting to watch it over again.
What about the Human Cast?
The way in which it blends real life with impeccable animation is done in such a seamless manner, it will leaving you thinking that a talking tiger and a gangster Gigantopithecus (an extinct species of the ape family) are a natural occurrence.
Neel Sethi's performance was both uplifting and believable throughout the entire movie. At one point Mowgli and Baloo sing the timeless classic Bare Necessities in such a fun and "normal" manner, you clearly feel that it was sang naturally and not dressed up in any way.
What about the Animated Cast?
The quality and realism of the computer generated animals is amazing, it will have you wondering whether Jon Favreau went back in time, sat with a Gigantopithecus down and taught him how to become the godfather!
Time to close the book.
It has been 122 years since the publication of Rudyard Kipling's classic. The Jungle Book is light, breezy, and optimistic and on a technical note a marvel of film-making. This is a clearly going to be a future children's classic which is shown by the care given to every detail. Just a final note that if you are taking very young eyes to see this, Sheer Khan is quite a scary tiger.
Overall it is a very strong 4 chunks from me!!!!



TruffleShuffle gives it 4 Chunks out of 5.
Chilli and rice! It's another extra long retro movie filled weekend?! Well….if we must!
So like one of the most talented and determined ice sculptors in the land, we find ourselves faced with a big block pure and clean ice acting as our blank canvas. With our mind racing with the possibilities, we'll begin to chip and chisel away at the super cooled goodness as we create one of our finest pieces. We'll rub and scrape our work into everything we imagined fully in the knowledge of it's impending doom. While it might melt and disappear in front of our eyes like each and every retro movie weekend, what will remain are the memories and experience of what once was. So how will you shape your ice?
Have a happy retro weekend!
SATURDAY 30th April
.
Scott of the Antarctic (1948) BBC2 7:40am-9:30am (1 hour 50 minutes)
Fact-based drama following explorer Robert Falcon Scott's failed expedition to be the first to reach the South Pole. The extreme conditions, poor decision-making and the pressure of the race to make it to the Pole before their Norwegian rivals proved too much for the British team, resulting in tragedy in 1912. Starring John Mills, Derek Bond, James Robertson Justice, Kenneth More and John Gregson.
Willy Wonka and the Chocolate Factory (1971) ITV3 1:30pm-2:30pm (1 hour)
An eccentric confectionery king announces that five children will be given a tour of his wondrous factory. The winners turn out to be a kind-hearted boy from a penniless family and four obnoxious brats, who face a terrible fate when they misbehave. Musical fantasy, based on Roald Dahl's classic book Charlie and the Chocolate Factory, starring Gene Wilder, Jack Albertson, Peter Ostrum and Roy Kinnear.
Short Circuit 2 (1988) Sony Channel 2:00pm-4:15pm (2 hours 15 minutes)
Manic mechanoid Johnny Five meets an old friend in New York City and embarks on a fact-finding tour – but ends up entangled in a series of escapades culminating in a bank robbery. Sci-fi comedy sequel, starring Fisher Stevens, Michael McKean, Cynthia Gibb and Jack Weston, with the voice of Tim Blaney.
Smokey and the Bandit (1977) ITV 2:40pm-4:25pm (1 hour 45 minutes)
A truck driver accepts a challenge to deliver a consignment of beer to a party. He claims he can make the 900-mile round trip in just 28 hours, but a pompous sheriff is determined to stop him in his tracks, not least because his prospective daughter-in-law has deserted his son and hitched a ride with the unlikely hero. Comedy, starring Burt Reynolds, Jackie Gleason, Sally Field and Jerry Reed.
Fun Fact: This 70s classic was the second highest grossing movie released in 1977, loosing out on the top spot to Star Wars.
The Flintstones (1994) ITV2 3:35pm-4:45pm (1 hour 10 minutes)
Blue-collar caveman Fred Flintstone is promoted to an executive position at work and unwittingly becomes embroiled in an embezzlement scheme – thanks in no small part to his seductive new assistant. Live-action version of the cartoon comedy, starring John Goodman, Rick Moranis, Rosie O'Donnell, Halle Berry and Elizabeth Taylor.
Liar Liar (1997) ITV2 5:20pm-6:25pm (1 hour 5 minutes)
A lawyer, whose underhand ploys to win cases leave him little time to see his son, discovers he is incapable of lying after the boy's birthday wish makes his dad tell only the truth. However, this causes a host of problems as the attorney tries to muddle his way through a high-profile divorce settlement. Comedy, with Jim Carrey, Maura Tierney, Justin Cooper, Jennifer Tilly and Cary Elwes.
The Fifth Element (1997) 5STAR 5:30pm-8:00pm (2 hours 30 minutes)
In the 23rd century, the world faces destruction from a seemingly unstoppable force of pure evil. Meanwhile, a New York cab driver encounters a mysterious woman destined to save the Earth from its fate, and has to protect her from a scheming arms dealer and a horde of alien mercenaries. Luc Besson's sci-fi adventure, starring Bruce Willis, Milla Jovovich and Gary Oldman.
K-9 (1989) Syfy 5:10pm-7:20pm (2 hours 10 minutes)
A hard-bitten cop's bad attitude forces his superiors to take desperate measures to find him a new partner on the eve of what could turn out to be the biggest case of his career – and the solution is to pair him up with a lovable Alsatian that will put him through his paces. Comedy, starring James Belushi, Mel Harris and Ed O'Neill.
Pulp Fiction (1994) Dave 10:00pm-1:00am (3 hours)
A series of interlinked stories about the Los Angeles underworld. A hitman plays minder to his boss's wife, and he and his partner deal with a dead body following a mishap with a gun. Meanwhile, a washed-up boxer goes on the run after refusing to throw a fight, and two lovers plot a hold-up in a diner. Quentin Tarantino's crime drama, starring John Travolta, Samuel L Jackson, Uma Thurman, Bruce Willis, Ving Rhames, Tim Roth and Amanda Plummer.
You Only Live Twice (1967) ITV4 10:15pm-11:25pm (1 hour 10 minutes)
James Bond is sent on a mission to uncover the truth behind the disappearances of Soviet and American space capsules before the mutually suspicious superpowers go to war. The trail leads to Japan, where Bond finally comes face to face with his arch-enemy Blofeld. Spy thriller, starring Sean Connery, Donald Pleasence, Akiko Wakabayashi and Bernard Lee.
Fast & Furious (2009) ITV 10:15pm-12:10am (1 hour 55 minutes)
News of a friend's murder brings international fugitive Dominic Toretto back to his home city of Los Angeles in search of revenge. It is not long before his pursuit leads him to cross paths with FBI agent Brian O'Conner, and despite their hostile feelings toward each other, the pair work together to bring down those responsible. Thriller sequel, starring Vin Diesel, Paul Walker, Michelle Rodriguez and Jordana Brewster.
SUNDAY 1st May
.
The Great St Trinian's Train Robbery (1966) Film4 11:00am-1:00pm (2 hours)
A crook and his cronies stash the money from a train heist in a deserted old mansion, planning to recover it in good time. However, several years later, when the thieves arrive to collect their loot, they discover the building has been turned into a school for girls where the pupils have become infamous for their escapades. Comedy, starring Frankie Howerd, Dora Bryan, Reg Varney and George Cole.
The Secret of My Success (1987) ITV3 4:15pm-5:15pm (1 hour)
A naive country boy travels to New York to make his fortune, only to end up working in a corporation's mail room. He chances on a vacant office and hatches a plan to pass himself off as a top-ranking executive, but leading a double life proves harder than expected. Comedy, starring Michael J Fox, Helen Slater, Richard Jordan and Fred Gwynne.
Star Trek VI: The Undiscovered Country (1991) 5STAR 4:50pm-7:00pm (2 hours 10 minutes)
Captain Kirk is framed for the assassination of the Klingon head of state just as the Federation is about to make peace with their old enemies. As Kirk and Dr McCoy are banished to an icy prison planet, Spock tries to uncover the identity of the real killers. Sci-fi adventure sequel, with William Shatner, Leonard Nimoy, DeForest Kelley, Christopher Plummer, with appearances by Christian Slater and Michael Dorn from Star Trek: The Next Generation.
School of Rock (2003) Film4 6:45pm-9:00pm (2 hours 15 minutes)
A slobbish guitarist dreams of stardom, but his hopes are dashed when the other members of his band kick him out. Struggling to make ends meet, he takes a job as a supply teacher at an exclusive private school, and sets about moulding his pupils into rock gods. Comedy from director Richard Linklater, starring Jack Black, Joan Cusack, Mike White and Sarah Silverman.
Mercury Rising (1998) ITV4 9:00pm-10:00pm (1 hour)
A top-secret government agency has developed a seemingly unbreakable code – only for an autistic boy to crack it in an instant. Assassins succeed in gunning down his parents, but a maverick FBI agent investigating their deaths finds the child hiding in a closet, and resolves to shield him from the hitmen on his trail. Thriller, starring Bruce Willis, Alec Baldwin and Miko Hughes.
Skyfall (2012) ITV2 9:10pm-10:55pm (1 hour 45 minutes) – Not retro but well worth a watch!
James Bond pursues a mysterious criminal mastermind who has orchestrated a terrorist attack on MI6 headquarters and exposed the identities of undercover agents around the world. The trail leads to a rogue former operative who has a personal vendetta against the intelligence organisation's leader. Action thriller, starring Daniel Craig, Javier Bardem, Judi Dench and Ralph Fiennes.
Men in Black (1997) GOLD 9:30pm-11:20pm (1 hour 50 minutes)
streetwise cop is enlisted by a top-secret government force dedicated to policing alien visitors to Earth, teaming up with a veteran agent just as a body-swapping extraterrestrial giant insect begins a reign of terror throughout New York City. Sci-fi comedy, starring Will Smith, Tommy Lee Jones, Linda Fiorentino, Rip Torn and Vincent D'Onofrio.
MONDAY 2nd May
.
The Parent Trap (1961) Film4 11:00am-1:50pm (2 hours 50 minutes)
When twins sisters meet for the first time at summer camp, they decide it is high time their estranged parents got back together again, and hatch an ingenious plan to reunite them by swapping places with each other. Disney comedy, starring Hayley Mills in a dual role as both sisters, alongside Maureen O'Hara, Brian Keith and Leo G Carroll.
Camelot (1967) BBC2 10:25am-1:15pm (2 hours 50 minutes)
King Arthur is happily married to Queen Guenevere, but the arrival of handsome knight Sir Lancelot leads to infidelity and betrayal. For a time, the king refuses to believe his wife is having an affair, but the lovers are betrayed by Arthur's son, the conniving Mordred. Oscar-winning musical based on the Arthurian legend, starring Richard Harris, Vanessa Redgrave, Franco Nero, David Hemmings and Lionel Jeffries.
The Dam Busters (1954) ITV4 4:30pm-5:30pm (1 hour)
The story of the destruction of the major dams in Germany's industrial heartland in the Ruhr valley in 1943, a mission that seemed impossible until engineer and scientist Barnes Wallis came up with the ingenious idea of bouncing bombs, and the pilots of 617 Squadron were trained to fly the crucial mission. Second World War drama, with Michael Redgrave, Richard Todd, Basil Sydney, Derek Farr and Ursula Jeans.
Fun Fact: The bombs shown in the movie were the wrong shape because the actual shape (a stubby cylinder) was still secret at the time.
Smokey and the Bandit II (1980) Dave 4:55pm-7:00pm (2 hours 5 minutes)
The maverick haulier must overcome a crisis of confidence when he and his friends are hired to transport a pregnant elephant to Texas, a mammoth task that proves far from easy, especially with their old enemy in hot pursuit. Road comedy, with Burt Reynolds, Jackie Gleason, Jerry Reed, Dom DeLuise and Sally Field.
Iron Man (2008) Film4 6:25pm-9:00pm (2 hours 35 minutes)
Arms manufacturer Tony Stark is taken hostage by a terrorist group and realises the weapons his company build have been falling into the wrong hands. Using his engineering skills to construct a hi-tech armoured suit, he manages to escape and then puts the technology to good use in the fight against evil around the world. Superhero adventure, starring Robert Downey Jr, Jeff Bridges, Gwyneth Paltrow and Terrence Howard.
The Incredible Hulk (2008) Syfy 6:50pm-9:00pm (2 hours 10 minutes)
A bungled experiment causes a scientist to turn into a monster whenever he gets angry. He travels the world seeking a cure for his condition, while a ruthless general is determined to capture him and use the creature as a weapon. However, one of the soldiers under the officer's command undergoes a terrifying transformation of his own. Comic-book adventure, starring Edward Norton, Liv Tyler, Tim Roth and William Hurt.
Nighthawks (1981) ITV4 9:00pm-10:00pm (1 hour)
Two tough cops are assigned to track down a ruthless terrorist on the streets of New York before he carries out his threat to blow up the UN building – and from randomly picking off innocent citizens as the pressure builds. Action adventure, starring Sylvester Stallone, Billy Dee Williams, Rutger Hauer, Lindsay Wagner, Nigel Davenport and Persis Khambatta.
Iron Man 2 (2010) Film4 9:00pm-11:25pm (2 hours 25 minutes)
Tycoon-turned-superhero Tony Stark confronts a fearsome new foe in a Russian scientist using his own deadly hi-tech weapons to seek revenge. He also faces a struggle to keep his secrets out of the hands of both the government and an amoral rival, and discovers the armour he developed to fight evil is slowly killing him. Action adventure sequel, with Robert Downey Jr, Mickey Rourke and Don Cheadle.
Air Force One (1997) 5STAR 9:00pm-11:25pm (2 hours 25 minutes)
The American president is forced to take drastic measures to save his family when their plane is hijacked by Russian terrorists demanding the release of a jailed radical general. Meanwhile, the vice president tries to manage the crisis from Washington and has to decide whether to shoot the aircraft down. Action thriller, starring Harrison Ford, Gary Oldman, Glenn Close, Dean Stockwell and William H Macy. Includes Access at 10pm.
Tomorrow Never Dies (1997) ITV 11:00pm-1:10am (2 hours 10 minutes)
James Bond joins forces with a Chinese agent to foil a media mogul's scheme to start a war between their countries. Using an undetectable stealth ship, the press baron plans an attack on both nations' navies, knowing they will blame each other – giving him exclusive global media coverage of the resulting conflict. Spy adventure, starring Pierce Brosnan, Jonathan Pryce, Teri Hatcher and Michelle Yeoh.
Whatever you're up to this bank holiday weekend, always remember to prepare for the worst and hope for the best. And bring a charger….
xoxo
We're back again folks! Yep every once in a little while we dive head-first into a fact finding mission as we pick out one of our favourite things to uncover and share on our little corner of the internet. Think of it as like school but only learning stuff you really want to know, and with less tests.
This time we're taking a trip back to Andy's bedroom back in 1995 as we sniff out some amazing and perhaps little known facts about the movie masterpiece Toy Story!
So! Without further ado, sit back and enjoy some of out top Toy Story facts you didn't not know before you now know….wait what?
1.The first movie was originally supposed to be called "You Are A Toy." Not sure it has the same ring to it huh.
2. Toy Story 2 is one of just three Disney movies to win a Golden Globe for Best Picture. The other two are Beauty and the Beast and The Lion King. Classics!
3. Without Tim Burton's classic Nightmare Before Christmas, Toy Story might never have happened! Yep before Burton's hit, no animated film bearing the Disney name had ever made outside of Disney Studios. After it's success the studio's attitudes towards collaboration changed.
4. Because Hasbro denied Pixar the use of the name GI Joe when they learned that a GI Joe doll was going to be blown up by Sid (remember in the garden?), Pixar used the amazing army men instead. Solid choice!
5. Toy Story is the first fully computer-generated full-length feature film. Ever.
6. The number plates on Andy's mum's car are "A 111" on the front and "A 113" on the back. A111 and A113 are two rooms used by the animation department at CalArts which many employees of Pixar attended.
7. Tim Allen and Pixar originally wanted Jim Carrey to voice Buzz Lightyear, but they couldn't due to the low budget they were given for the film.
8. The character of Andy is named after a Brown University Professor and computer science and animation pioneer Andries "Andy" Van Dam who taught many of makers of this film.
9. In their most productive week during production, Pixar completed 3.5 minutes of animation.
10. Buzz Lightyear's original name was Lunar Larry.
Phew! So there you have them folks. Hopefully you've learned a little something new for the next home screening, just so you can annoy wow your friends and family.
Know any other cool Toy Story facts? Shout them out in the comments section below.
Thanks! xoxo
Oh how our geeky senses are trembling! With the release of the action-packed new Captain America film Civil War just a few days away *eeeeeep!*, Truffle Towers is a buzz with anticipation of the epic new addition to our already quickly growing superhero movie faves and it's not hard to see why.
Packed with more superheroes than a kid's toy box, this amazing new adventure is sure to feed even the most hungry hero lover out there with amazing special effects, combat and some good old fashioned hero cheesiness. What's not to love right?
So what's it all about?
This big new adventure finds Captain America leading an Avengers team that includes Iron Man, Black Widow, Falcon, Winter Soldier, War Machine, Hawkeye, Black Panther, Scarlet Witch, Ant-Man and Spider-Man. Following a major attack which results in huge collateral damage and the loss of civilian lives, political pressure mounts as the government seeks more accountability and regulation on their actions.
This sparks a divide in the Avengers with The Captain seeking to remain free from such control and the usually wayward rogue Iron Man who believes the team should work with the officials. Members of the team pick a side and are forced to fight for what they believe. That can only go well…
See for yourself! Take a peep at this official trailer for a glimpse at the action….
.
Pretty epic huh! Will they sort their differences and what will this mean for The Avengers role in society? Well….a trip to the movies to catch this should tell you all.
So are YOU ready?
With more superheroes on the big screen than ever before, there are plenty more reasons each year to show your love for some of the most iconic comic book legends which is just our speciality! Always expanding our range of official Superhero TShirts, we're pretty set for our trip to the pictures and if anything are spoilt for choice!
Take a peep at some of our favourite Captain America, Iron Man, Spider-Man and Avengers TShirts….
So are you planning a trip to catch this? Reading this after watching it? Let us know what you thought below!
xoxo
Perhaps one of theeee biggest shows to hit our screen in recent years in both popularity and all out budget, effects and awesomeness (which is a real word…..maybe), Game of Thrones has become so much more than another series you should probably set your telly to record, it's become a screening event!
With more goings on than a Pokemon speed dating night, Game of Thrones gives us a weekly healthy dose of drama, fighting, power struggles, politics, history *ahem* and suspense all with a Dragon or three thrown in for good measure. Basically, it's just about as amazing and complete as things can get.
So what might be in store for season 6??

Well….following the frankly pretty shocking goings on of the end of Season 5, including the fate of Jon Snow at the hands of the Night's Watch, Daenerys' moment of action at the fighting pits of Meereen, and Cersei's public shocking humiliation in the streets of King's Landing, survivors from all parts of Westeros and Essos regroup to press forward towards their uncertain fates. We'll see some pretty familiar faces begin to forge new alliances, while a host of new characters will hit the screen only to challenge the balance of power throughout the kingdoms. Pretty much business as usual then huh.
Take a peep at this little trailer for some insight into the next chapter…
So when is it on TV??
Season 6 will be rearing it's fiery head on it's home turf HBO in the US or A on Sunday the 24th of April. Sky Atlantic will then later air the episode the following day for us eager UK fans, on Monday the 25th of April at errmmmm 2am. Time to get setting the VHS DVR then peeps.
Are you ready?
With so much that has come before and plenty just on the horizon, getting your hands on your very own slice of Game of Thrones merchandise has never seemed like such a good idea. To us anyways. With plenty to pick from, take a peep at some of our humble offerings below….
So what are you expecting from season 6? Let us know by commenting below.
xoxo