Mistletoe and wine! Tis the season already??
Ho Ho Ho! Once again we find ourselves riding the sleigh of retro movie awesomeness though the clouds and the night sky. With our trusty reindeer leading the way as we go, we'll spread the word or top retro movies to each and every house we pass as they prepare to tuck into some eagerly anticipated festivities. Feeling fit to bust with each mouthful l of celluloid wonder, we'll kick back, relax and let only the finest and most nostalgic characters and scenes soothe our brow.
Have a happy Christmas!
Christmas Eve
.
The Santa Clause (1994) BBC1 London 10:30am-12:00pm (1 hour 30 minutes)
A grumpy divorced father faces a dilemma one Christmas Eve after accidentally startling Santa and causing him to fall to his death. The guilty man's only option is to put on the red suit, jump into the sleigh and finish the round himself, much to his son's delight. Fantasy comedy, starring Tim Allen, Judge Reinhold, Wendy Crewson, Eric Lloyd and David Krumholtz.
Gone with the Wind (1939) Channel 5 10:30am-2:45pm (4 hours 15 minutes)
A resourceful plantation heiress struggles to support herself through a series of challenges during the chaos of the American Civil War and the subsequent restoration, all the while maintaining a tumultuous relationship with a roguish Southern gentleman. Epic romantic drama based on Margaret Mitchell's novel, starring Vivien Leigh, Clark Gable, Leslie Howard, Olivia de Havilland and Hattie McDaniel.
Back to the Future Part II (1989) ITV London 11:25am-1:30pm (2 hours 5 minutes)
Time-travelling teenager Marty McFly travels to the 21st century, where he has to save his children from a terrible fate. However, this proves to have unforeseen consequences when the future version of arch enemy Biff sees a chance to rewrite history for his own benefit, leaving Marty stuck in a twisted parallel universe. Sci-fi comedy sequel, starring Michael J Fox and Christopher Lloyd.
Sister Act 2: Back in the Habit (1993) BBC2 London 1:00pm-2:45pm (1 hour 45 minutes)
A cabaret singer who once hid out in a convent is reunited with the nuns she befriended, who now need her help. She poses as a member of the order once more and joins the staff of a Catholic school threatened with closure, where she aims to make a success of the resident choir. Comedy sequel, starring Whoopi Goldberg, Kathy Najimy, Lauryn Hill, Maggie Smith and James Coburn.
Willy Wonka and the Chocolate Factory (1971) ITV3 1:40pm-3:45pm (2 hours 5 minutes)
An eccentric confectionery king announces that five children will be given a tour of his wondrous factory. The winners turn out to be a kind-hearted boy from a penniless family and four obnoxious brats, who face a terrible fate when they misbehave. Musical fantasy, based on Roald Dahl's classic book Charlie and the Chocolate Factory, starring Gene Wilder, Jack Albertson, Peter Ostrum and Roy Kinnear.
Charlie And The Chocolate Factory Merchandise
National Lampoon's Christmas Vacation (1989) ITV London 3:50pm-5:40pm (1 hour 50 minutes)
An American householder is dismayed when his plans for a traditional festive family holiday are thrown into complete disarray by a succession of annoying neighbours and long-lost relatives, who turn up on his doorstep offering their own brand of Christmas cheer. Comedy, starring Chevy Chase, Beverly D'Angelo, Randy Quaid, Diane Ladd, Juliette Lewis, Miriam Flynn, Johnny Galecki and William Hickey.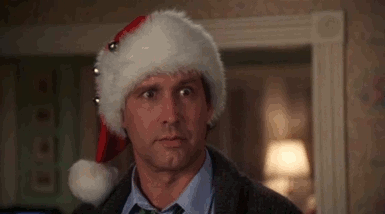 Finding Nemo (2003) BBC1 London 3:50pm-5:20pm (1 hour 30 minutes)
Clown fish Nemo becomes separated from his friends on the Great Barrier Reef – but the thrill of being able to swim freely and away from his overprotective father turns to horror when he is netted by a diver. His distraught dad sets out on a mission to find him and is joined by a host of colourful characters along the way. Pixar animated adventure, with the voices of Albert Brooks, Ellen DeGeneres, Alexander Gould, Willem Dafoe, Barry Humphries and Geoffrey Rush.
Tim Burton's The Nightmare Before Christmas (1993) ITV2 7:25pm-9:00pm (1 hour 35 minutes)
Jack Skellington, the Pumpkin King of Halloween Town, tires of being scary and decides to take over the friendly world of Christmas. After kidnapping Santa, he prepares to take his place and do Christmas in his own ghoulish way. Stop-motion animated fantasy, with the voices of Chris Sarandon, Catherine O'Hara and Paul Reubens, and a musical score by Danny Elfman.
Rambo III (1988) ITV4 11:55pm-2:00am (2 hours 5 minutes)
Vietnam veteran John Rambo turns down a request from his old colonel to join a mission in Soviet-occupied Afghanistan. However, when the officer is captured, Rambo sets off to save him, joining the Mujahedeen rebels in fighting against the Russian invaders. Action adventure sequel, starring Sylvester Stallone, Richard Crenna, Kurtwood Smith, Marc de Jonge and Sasson Gabai.
Bill & Ted's Excellent Adventure (1989) ITV London 12:00am-1:40am (1 hour 40 minutes)
Two dim-witted teenagers with dreams of rock stardom seem doomed to fail a school history project, unaware the future of the human race depends on their success. A time traveller is given the job of making sure they pass the test by sending them on a series of adventures in the past. Comedy, starring Keanu Reeves, Alex Winter and George Carlin.
Christmas Day

.
Santa Claus: The Movie (1985) ITV London 9:25am-11:30am (2 hours 5 minutes)
An impulsive elf walks out on Father Christmas during the hectic preparations for the festive season, and heads for New York determined to make a name for himself. However, he falls into the clutches of an evil toy manufacturer, who has a devilish money-making plan up his sleeve. Family fantasy adventure, starring Dudley Moore, John Lithgow, David Huddleston, Burgess Meredith and Judy Cornwell.
The Cat in the Hat (2003) BBC2 London 9:45am-11:00am (1 hour 15 minutes)
Two bored youngsters are led on a series of zany misadventures when a manic moggy comes knocking at their door with a magical stovepipe hat on his head and mischief in mind. Comedy fantasy based on the children's book by Dr Seuss, starring Mike Myers, Alec Baldwin, Dakota Fanning and Spencer Breslin.
Scrooge (1970) Channel 5 10:50am-1:05pm (2 hours 15 minutes)
Hard-hearted Victorian miser Ebenezer Scrooge refuses to join in with the spirit of the festive season – until a succession of spectral visitors turn up to teach him the error of his ways. Musical adaptation of Charles Dickens' classic A Christmas Carol, starring Albert Finney, Alec Guinness, Kenneth More, Edith Evans and Paddy Stone.
White Christmas (1954) Film4 11:00am-1:20pm (2 hours 20 minutes)
A pair of former soldiers start a new career as nightclub entertainers. They try to boost the popularity of their old commanding officer's struggling winter resort in Vermont by staging a series of extravagant shows, with a little help from their former army buddies and a talented singing sister act. Musical, starring Bing Crosby, Danny Kaye, Vera-Ellen, Dean Jagger, Sig Rumann, Mary Wickes, Anne Whitfield and Rosemary Clooney, featuring seasonal songs by Irving Berlin.
Fun Fact: According to Rosemary Clooney, in Bing Crosby and Danny Kaye's "Sisters" performance, Crosby's laughs are genuine (and unscripted). Many takes were attempted, but Crosby was unable to hold a straight face due to Kaye's comedic dancing.
The Muppet Christmas Carol (1992) Channel 4 1:45pm-3:25pm (1 hour 40 minutes)
An embittered Victorian miser hates the festive season and people in general, but on Christmas Eve, the ghosts of his former business partners, the Marley brothers, visit him in the night. They warn him three spirits are coming to make him change his ways by showing him visions of the past, the present and what the future may hold. Comedy, with Michael Caine and Steven Mackintosh alongside the puppet characters.
Short Circuit 2 (1988) Watch 2:20pm-4:30pm (2 hours 10 minutes)
Manic mechanoid Johnny Five meets an old friend in New York City and embarks on a fact-finding tour – but ends up entangled in a series of escapades culminating in a bank robbery. Sci-fi comedy sequel, starring Fisher Stevens, Michael McKean, Cynthia Gibb and Jack Weston, with the voice of Tim Blaney.
The Wizard of Oz (1939) Channel 5 3:10pm-5:10pm (2 hours)
Youngster Dorothy Gale is whisked over the rainbow by a tornado into the magical land of Oz, where she inadvertently kills a wicked witch – incurring the wrath of another. Setting out to find the wizard who can show her a way home, she is joined on her journey by a scarecrow, a tin man and a cowardly lion, who all hope their own wishes will be granted. Musical fantasy, with Judy Garland, Ray Bolger, Jack Haley, Bert Lahr and Frank Morgan.
Home Alone 2: Lost in New York (1992) Channel 4 5:45pm-8:00pm (2 hours 15 minutes)
Hapless youngster Kevin somehow manages to catch the wrong plane and finds himself heading for New York, while his family jets off to Florida. Having got his hands on his father's credit card, he is enjoying the good life staying in a luxury hotel – until he bumps into two familiar burglars with an axe to grind. Comedy sequel, starring Macaulay Culkin, Joe Pesci, Daniel Stern, Brenda Fricker and Tim Curry.
The Lost World: Jurassic Park (1997) ITV2 6:15pm-8:45pm (2 hours 30 minutes)
Scientist Dr Ian Malcolm reluctantly joins a research team on the island where his employer first designed genetically engineered dinosaurs. Meanwhile, a big-game hunter takes the chance to bag the biggest prize of all – a Tyrannosaurus rex. Steven Spielberg's dinosaur adventure sequel, starring Jeff Goldblum, Julianne Moore, Pete Postlethwaite and Richard Attenborough.
Toy Story (1995) BBC3 7:30pm-8:45pm (1 hour 15 minutes)
A jealous string-pulled cowboy doll's status as his owner's favourite plaything is threatened by the arrival of a charismatic hi-tech astronaut figure, who refuses to believe he is simply a toy. However, the rivals are forced to work together when they are left stranded in the outside world. Pixar animated adventure, featuring the voices of Tom Hanks, Tim Allen, Don Rickles and Jim Varney.
Fun Fact: This was the first animated film in Oscar history to be nominated for a Best Screenplay Academy Award
National Lampoon's Christmas Vacation (1989) ITV4 10:00pm-12:05am (2 hours 5 minutes)
An American householder is dismayed when his plans for a traditional festive family holiday are thrown into complete disarray by a succession of annoying neighbours and long-lost relatives, who turn up on his doorstep offering their own brand of Christmas cheer. Comedy, starring Chevy Chase, Beverly D'Angelo, Randy Quaid, Diane Ladd, Juliette Lewis, Miriam Flynn, Johnny Galecki and William Hickey.

Boxing Day
.
Back to the Future Part III (1990) ITV London 10:55am-1:05pm (2 hours 10 minutes)
Time-travelling teenager Marty McFly is transported back to the days of the Wild West, where he strives to save his eccentric scientist friend Doc Brown from death at the hands of a villainous gunslinger. Final instalment in the sci-fi comedy trilogy, starring Michael J Fox, Christopher Lloyd, Mary Steenburgen and Thomas F Wilson.
The Land Before Time (1988) 5* 11:40am-1:00pm (1 hour 20 minutes)
A young brontosaurus is left alone when his mother dies, so goes off in search of a legendary valley, where food is plentiful and he will be safe. He acquires a group of new friends on his journey, who help each other to avoid predators and obstacles in their way. Animated adventure, featuring the voices of Gabriel Damon and Pat Hingle.
Space Jam (1996) ITV2 11:55am-1:40pm (1 hour 45 minutes)
Aliens arrive on Earth to abduct the Looney Tunes gang as a new attraction at their failing intergalactic theme park. To keep their freedom, Bugs Bunny and friends challenge the invaders to a high-stakes basketball game, calling on Michael Jordan to save the day and send the extraterrestrials back where they came from. Live action and animated comedy, starring Bill Murray and Danny DeVito, with the voices of Billy West and Bill Farmer.
Jurassic Park (1993) ITV London 1:20pm-3:40pm (2 hours 20 minutes)
Scientists are given a sneak preview of a safari park inhabited by genetically engineered dinosaurs created by an eccentric tycoon. However, it all goes wrong when a greedy employee sabotages the security systems, allowing the prehistoric beasts to roam free and hunt the visitors. Steven Spielberg's action adventure, starring Sam Neill, Laura Dern, Jeff Goldblum, Richard Attenborough and Samuel L Jackson.
Labyrinth (1986) 5* 4:50pm-6:55pm (2 hours 5 minutes)
A teenager wishes her baby brother would be taken away, only to have her request granted by a band of goblins and their sinister king. She regrets her decision and sets out to rescue him, but to reach the castle where he is being held, she must find her way through a magical maze full of strange creatures. Jim Henson's fantasy adventure, starring Jennifer Connelly and David Bowie.
Despicable Me (2010) ITV2 6:40pm-8:30pm (1 hour 50 minutes)
A criminal mastermind hopes to seal his reputation as the greatest villain of them all by stealing the moon. First he needs to get his hands on a shrinking ray owned by a rival evil genius, and adopts three orphan girls to help him – but finds that fatherhood brings out his long-buried caring side. Animated comedy, with the voices of Steve Carell, Jason Segel, Russell Brand and Julie Andrews.
Beetlejuice (1988) ITV4 9:00pm-11:00pm (2 hours)
Recently deceased couple Adam and Barbara Maitland enlist the professional services of a hard-boiled veteran ghost to scare away the obnoxious yuppie family who have moved into their former home. Tim Burton's supernatural comedy, starring Michael Keaton, Geena Davis, Alec Baldwin, Winona Ryder, Jeffrey Jones and Catherine O'Hara.
Iron Man 2 (2010) Film4 9:00pm-11:25pm (2 hours 25 minutes)
Tycoon-turned-superhero Tony Stark confronts a fearsome new foe in a Russian scientist using his own deadly hi-tech weapons to seek revenge. He also faces a struggle to keep his secrets out of the hands of both the government and an amoral rival, and discovers the armour he developed to fight evil is slowly killing him. Action adventure sequel, with Robert Downey Jr, Mickey Rourke and Don Cheadle.
The Boat That Rocked (2009) ITV4 11:00pm-1:40am (2 hours 40 minutes)
A host of eclectic DJs entertain 1960s Britain through a pirate radio station, broadcasting from a vessel in the North Sea. However, a high-ranking government official is determined to bring an end to the rogue outfit and the individuals responsible for its continued existence. Richard Curtis's comedy, starring Bill Nighy, Rhys Ifans, Philip Seymour Hoffman, Kenneth Branagh and Nick Frost.
From Russia with Love (1963) ITV London 11:25pm-1:25am (2 hours)
James Bond is sent to steal a top-secret Soviet decoding machine and ends up helping its operator defect to the West. However, he discovers the mission is really a trap set by international crime syndicate Spectre, and struggles to evade his would-be assassins. Spy thriller, starring Sean Connery, Robert Shaw, Daniela Bianchi and Lotte Lenya.
Whatever you're up to this Christmas, have a wonderful time and remember, sometimes just giving your time can be the best gift of all.
xoxo