Making us feel waaaaay older then we'd like to think we are, can you believe that 2016 marks 30 years since the amazing Labyrinth first entered our lives and turned our world! Directed by The Muppets creator Jim Henson and produced by George Lucas, the 1986 fantasy film is pretty much the definition of cult classic – and boy, do we have a treat for you to celebrate this magnificent 80's movie!
As if we didn't spoil you enough with our huge range of exclusive Labyrinth merchandise all available exclusively at TruffleShuffle (sneak peek below!), it's time to listen up you precious things because we're giving away some aMAZEing prices.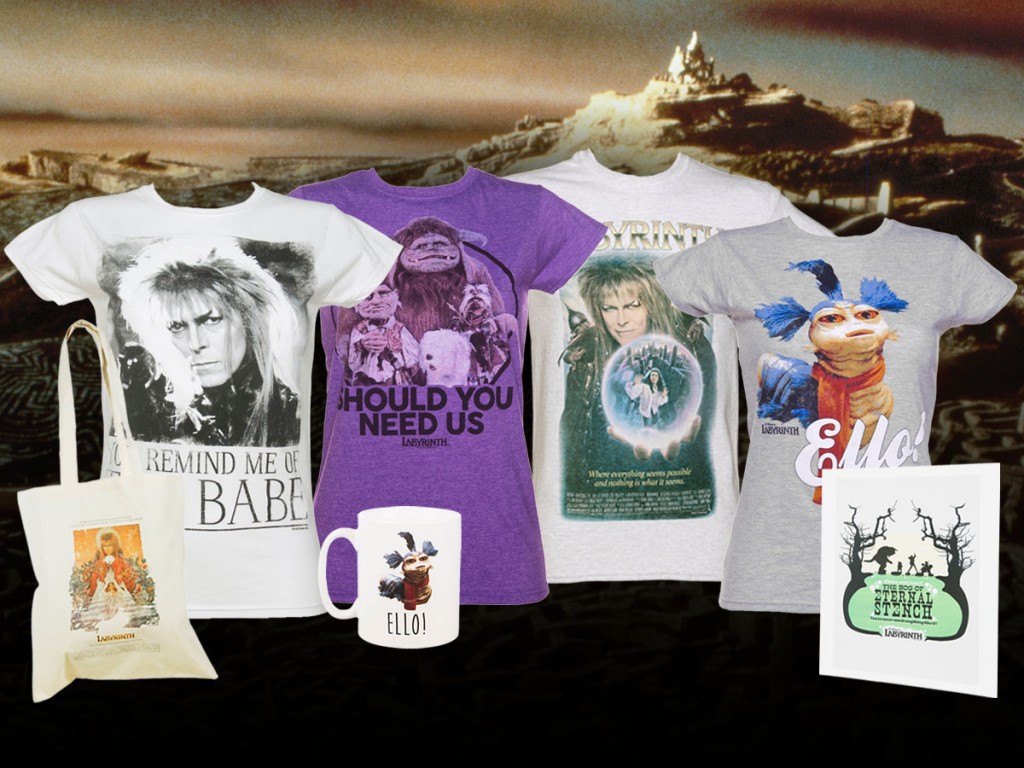 The Prize
Up for grabs we have a whopping FIVE copies of the Labyrinth 30th Anniversary 2 Disc Steelbook worth a cool £29.99 each!
Set to be released this Monday, inside you'll find two copies of the film, one in stunning Blu Ray and another in 4K Ultra HD greatness so you can enjoy the Bowie magic in more detail than ever before.
Plus, it also comes complete with ALL NEW SPECIAL FEATURES!
•    "Reordering Time: Looking Back at Labyrinth" – Jennifer Connelly and the Henson Family reflect on this classic film, 30 years later – recounting their experiences, the groundbreaking nature of the puppetry and the enduring legacy of the film.
•    "The Henson Legacy" – celebrate Jim Henson's lasting imprint on the world of filmmaking, puppetry, and above all, imagination as his family discusses his work and takes us behind the scenes at the "Centre of Puppetry Arts", which features The Jim Henson Collection and over 100 puppets from Labyrinth
•    "Remembering the Goblin King" – Remembering David Bowie with co-star Jennifer Connelly, and Jim Henson's children Brian Henson and Cheryl Henson
•    Labyrinth Anniversary Q&A – Hosted by Mythbuster's Adam Savage with participants Brian Henson, David Goelz and Karen Prell and surprise guest Sharl Weiser
•    Theatrical Trailer
•    The Storytellers: Picture-in-Picture Track
•    Commentary by Conceptual Designer Brian Froud
•    Making-Of Documentary "Inside the Labyrinth"
•    "Journey Through the Labyrinth: Kingdom of Characters & The Quest for Goblin City" featurette
Such a great prize or perhaps a gift for any Labyrinth fan right?
How To Enter
To enter, simply follow the directions below within the brilliant Gleam entry system. This system allows you to enter a few different ways like….checking out our Facebook page, sending a tweet, commenting on our blog, checking out our Instagram and more!
*Hint* The more ways you enter, the more chances you have of winning – just like tickets out of a hat.
5 x Labyrinth 30th Anniversary Edition Steelbooks

How long do I have?
This magical giveaway  closes midnight on Sunday 18th September so get entering fast peeps!
How will the winners be chosen?
Well…. totally at random! Keeping it all as fair as possible, the magical Gleam system will dive into all the entries (remember, you can enter more than once) and pluck out our five lucky winners at random. Simple as that! We will then share this on our social pages and get in touch with the lucky winner directly too just to be sure.
So that's it Labyrinth fans! Get your entries in now and help us celebrate the 30th anniversary of this beloved fantasy classic from visionary filmmaker Jim Henson!
T+C's
Only five winners will be chosen at random.
There will be no cash alternative to prizes offered.
If we do not hear back from the winner after 1 week, another will be chosen at random.
TruffleShuffle.co.uk reserve the right to close/cancel the competition at any time.
Prizes will be posted ASAP, however may take up to two weeks to arrive.
The set is Region B/2 and for playback in 4k with HDR, you will need a 4K UHD TV with HDR, Ultra HD Blu-ray player and a High speed HDMI 2.0A cable
Winners decision is final.
Good luck!